Keeping rail moving in Finland during winter
Winter is the longest season in Finland and in northern parts of the country the cold weather can last up to seven months. During the winter months, the temperature drops below zero degrees and snow covers the ground across the entire country. But despite these harsh weather conditions, the Finnish railway network is kept open to traffic at all times. Markku Nummelin – Technical Director for the Finish Transport Agency – explains how this is achieved.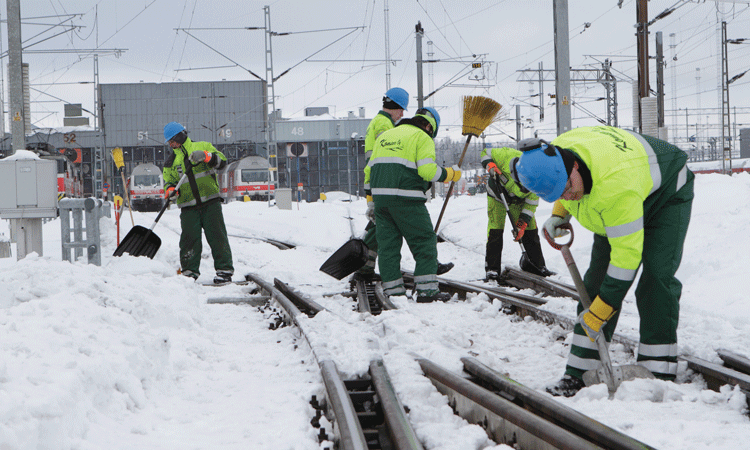 The Finnish Transport Agency (FTA) is responsible for the maintenance and development of the country's 5,944km railway network of which 3,172km has catenary. The majority of the Finnish railway network is single-tracked.
The objective of Finnish railway network maintenance is to maintain the current network in a condition that meets the needs of safe and efficient transport all year round. The harsh Finnish winters set certain challenges for winter maintenance. In addition to winter know-how, specific equipment and materials are required.
A number of different methods and techniques are used to fight the battle against ice and snow. For example, electric heating, various other snow melting techniques, snow protections and snow brushes are all methods used to enhance winter maintenance. However, despite the technological innovations, a lot of traditional snow ploughing is still required.
Learning a lot from previous harsh winters
The past four winters (2009–2013) have been exceptionally harsh in Finland. We have seen enormous amounts of snow, especially in the south of the country and Helsinki, and the periods when temperatures have fallen below zero degrees have also been longer than normal. In 2010–2011, the mean daytime temperatures dropped below zero as early as November, even in the southernmost parts of the country, and there were no melting periods before the end of the following March. Also the frost heave started a month earlier than expected that same winter. All this affected the punctuality of rail traffic because the average train speed had to be slowed down. However, winter 2013–2014 was very mild in comparison and we had very little snow.
The past winters have been challenging but we have also learned a lot and we have taken measures to improve snow ploughing every year. There is currently more co-operation between different parties: the contractors make the local snow removal plans together with the FTA, the traffic control centre and the railway operator.
Tough winter conditions have also affected the quality requirements of snow ploughing which are presently kept at a higher level due to the experience from previous winters. Additional measures are also taken to make quality control more systematic.
Snow ploughing plans are made to ensure that rail transport runs as smoothly as possible. This means that traffic is always the first priority, with ploughing the second. Maintenance of platform areas is timed to take place in accordance with passenger traffic. Due to safety reasons, snow removal using big machinery is not allowed while trains are in operation. At the busiest stations this means that snow work is mostly done during night hours. 
Turnout winter maintenance
On the FTA's railways at the beginning of 2013 there were a total of 5,481 turnouts. In addition to this, private sidings had 2,353 turnouts. Of the FTA's turnouts, 1,254 (23%) were of rail type 60E1 (UIC60) and 3,161 (58%) of rail type 54E1 (UIC54). In total, 3,003 of 5,481 turnouts have electric heating.
Technical improvements of turnouts have made winter maintenance a lot easier. For example, electric heating minimises problems caused by ice and snow. Automatic electric heating works in a flexible way. Power consumption is adjusted according to the situation and this saves money and benefits the environment. This means that electric heating is switched on only when necessary. There is also a possibility to use heating on half, or even quarter, power. Basically this means that electric heating has enough power to handle the worst possible weather but also enough adjustability to be energy-saving.
In addition to automatic electric heating, the efficiency of turnouts is improved with snow brushes and snow protections. Most critical turnouts are equipped with fixed snow brushes which significantly improves the functionality of the turnouts and decreases the need for snow ploughing.
Snow guides in front of the switches reduce snow and ice going between tongues and stock rails. The FTA has also installed longitudinally movable rollers in switches which improve the functionality of switches, especially during winter months. Near the heel of the switch tongues the slide plates have X-formed grooves so that lubrication is more effective.
Geothermal techniques are used in some pilot switches in Helsinki. Heat transformers work successfully in stock rails, but not in moving tongues. That is why a combination of geothermal techniques and electrical heating is needed.
Other measures for turnout winter maintenance
Even though technical improvements play a huge role in turnout winter maintenance, there are still many things that technology alone can't solve. Out in the field we need highly-skilled manual snow cleaning shift teams – many workers, machines and snow transport wagons.
The snow operations are planned in co-operation with traffic control, the FTA and the contractor in one-week intervals. Snow plans include snow ploughing information, working area restrictions and changes in the trains' departure and arrival tracks. All snow equipment can be used to its maximum when specific areas of the railway yard are reserved starting in the evening instead of starting at midnight.
Building Information Models (BIM) can also be utilised to improve railway winter maintenance and decrease infrastructure damage. So far information models are mainly used in planning and implementation, but in the future the maintenance activities can also be modelled more efficiently.
Glycol spraying
Technical, mechanical and chemical methods are all used for railway winter maintenance in Finland. One of the chemical methods the railway operator uses is glycol spraying and glycol treatment of rolling stock bogies. Coating of the undercarriage and bogies of rolling stock will prevent and reduce snow and ice build-up. A glycol spraying system was installed at the major Ilmala railway yard mainly for the treatment of departing passenger rolling stock.
The FTA has conducted pilot studies to evaluate how glycol spraying and other chemicals could possibly help turnout and level crossing winter maintenance. The results thus far have been promising.
Contractual penalty an additional measure to ensure high quality
The Finnish rail network is divided into 12 maintenance regions, each of which has its basic five-year maintenance contract. Winter maintenance is included in these contracts. Snow removal in platform and station areas has been divided into three service levels, and the railway yard's snow removal into two service levels in all maintenance regions. Technical manuals provide instructions on winter activities, and for example, on the allowed depth of snow in the rail areas. The contractor carries out their maintenance duties according to the agreed level, using the methods and resources they find the most effective.
Sufficient control and adherence to contracts so that the quality requirements are met are the main development areas of Finnish winter maintenance. The maintenance contracts include an incentive system and a contractual penalty to make sure that the safety, quality and timeliness of the activities can be met. In snow conditions, contractual penalties can apply in such cases where rail traffic delays or quality deviations have been caused by inadequate maintenance. The incentive and sanction practices as part of the maintenance contracts will be further developed in the future.
Winter maintenance process in Helsinki
Helsinki, the capital of Finland, has three major railway yards. Approximately 1,000 trains travel through the Helsinki area every day. On average, winter snow removal performance around this area is 100,000m3 but it can reach as high as 200,000m3 like it was during winter 2011–2012. Winter maintenance in the Helsinki area is outsourced and removed snow is stockpiled.
For this coming winter (2014–2015), a major snow storage area has become unavailable because of new housing being built. To find a solution to this problem the FTA conducted a study in early-2013. Six different alternatives were studied, including a snowmelt train and transportation of the snow with trains or trucks. The conclusion was that a snow melting field would be the most economical method. A snow melting field was also the most ecological method among the studied alternatives.
During the winter of 2013–2014, the FTA conducted a snow melting field pilot. The new approach was tested at the Ilmala railway yard and the results were good. A permanent snow melting field is now under construction which is employing energy from the Helsinki district heating system. In practice, a snow melting field makes snow piles melt faster than they would normally melt.
How do we prepare for this year's winter?
During the winter period of 2014–2015, all knowledge and know-how achieved from the previous years will be utilised. The accuracy of rail traffic will improve through practices proven good and useful. An example of this is the fact that many trees have been cut down as a precautionary measure to prevent them from falling on the railway or power lines because of heavy snow fall. Further research will also be performed to improve winter maintenance. There are several on-going studies on the potential of an ice shaker, compressed air systems in switches, new integrated point machines and frost removal methods.
Markku Nummelin is the Technical Director at the Finnish Transport Agency. He has long experience of railway technology, especially in the areas of switches and crossings and rail-wheel interaction. Markku has written 17 books about transport technology, especially for railways.