Implementing a development strategy to ultimately benefit passengers
The development of SŽ-Potniški promet, the passenger division of Slovenian Railways, is based primarily on the modernisation of rolling stock and on further technological development. A strategic direction has been set on upgrading the ticketing system and the existing mobility services as well as on providing comprehensive mobility solutions based on the Mobility-as-a-Service (MaaS) concept. Miha Butara, Assistant Director General of Slovenian Railways, explains that only by combining and increasing quality of passenger mobility services and introducing a significantly larger modern fleet, can SŽ confidently compete with operators of road transport services. New ways must be found to better meet passenger needs and make rail even more attractive to passengers.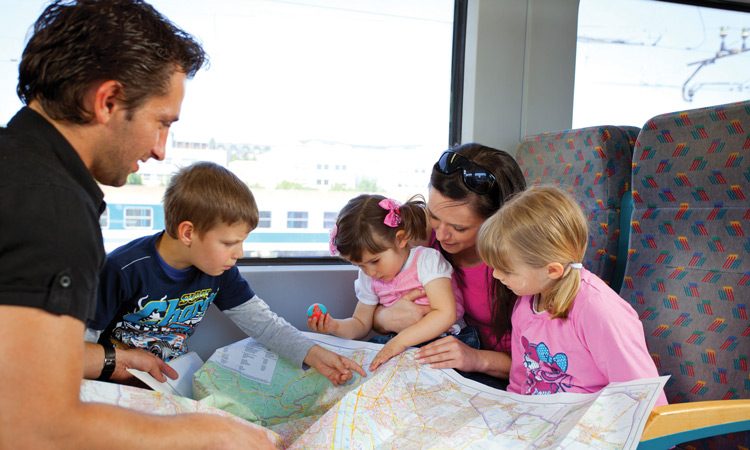 Increasing customer satisfaction is one of the main goals that we set in the 2018 Strategic Plan of Slovenian Railways' passenger division. Amongst other elements, the plan includes ambitious development strategies to be carried out between 2018 and 2031.
An insight into the passenger experience with satisfaction surveys
Annual passenger satisfaction surveys are a tool for providing the company with a greater insight into the perceived quality of its services. It helps the management board to evaluate the situation on the market and how new services were received by the end-users. The 2017 and 2018 surveys suggest passenger satisfaction has decreased and is lower than expected mainly due to train delays, extensive work on the rail lines and large-scale service disruptions due to engineering work on several lines. It has been a great challenge making sure passengers understand the significance the work on railway lines has on smooth operation of passenger trains and keeping the quality of services on an adequate level. We combine annual surveys with continuous surveys conducted on-board regional and local trains. An index is then calculated forming an average of all examined factors of passenger satisfaction on-board the trains and at railway stations. The data gathered in 2017 and 2018 show that the punctuality of the trains, i.e. delays and speed restrictions due to the engineering work, had a large negative effect on the index. This trend was expected because of the extensive work on our main lines. However, we have increased the satisfaction of our passengers in fields which such as satisfaction with staff, cleanliness, passenger support etc.
Five areas to increase service quality, user satisfaction and market share
In our strategic plan we have detailed several methods for increasing our passenger satisfaction despite the external factors currently lowering customer satisfaction. A positive passenger journey experience is crucial for our success in the modern highly competitive business environment. We are, therefore, boldly developing five areas with which we will increase the quality of our services and achieve better satisfaction with our passenger services.
1. Modernisation of rolling stock
The rolling stock we operated is relatively old. The oldest passenger train still in service recently celebrated its 50th anniversary. The most modern trains are the 32 Siemens Desiro trains purchased in 2001 and 2002 and three Pendolino trains purchased in 2000. In 2018, we signed a contract with Stadler to order 26 new Flirt trains with the option to purchase 26 additional units. Testing of the first batch of trains is planned for later in 2019, with the units expected to enter service in 2020.
2. Integration of rail and bus services into integrated public transport: The IJPP Project
The integration of rail and bus services allows users to travel across the country using a single contactless card, regardless of the transport service operator. Our goal is to provide flexible transport options and a platform on which we can start developing the concept of seamless mobility. Currently the system is being used by more than 56,000 high school students and 34,000 college students and is being tested with plans to expand it to all remaining users. With 37 transport service operators and more than 1,500 deployed terminals, it is a large-scale project.
3. Digitalisation and optimisation of the on-board experience
To further increase our market share and satisfaction with our services, we are testing both wired and wireless connections on our trains with the goal of providing infotainment systems and optimising the use of existing multimedia portals. In this way the information flow from the company to the passenger and back will be significantly easier and more efficient.
Understanding that e-Ticketing is key to providing a great experience on-board, we started upgrading the ticket sales system in 2015. In 2018 we implemented e-Ticketing for all regular services online and on the Slovenian Railways' mobile app. A recent analysis shows the user rate is steadily increasing every month. Soon an existing mobile application will be integrated into the e-Ticketing system, thus providing a one-stop-shop service to passengers. Additionally, we are planning to place ticket vending machines at railway stations country wide. A public tender will be finalised later in 2019.
With digitalisation and the ongoing modernisation of the information system, we can provide even more detailed real-time information for passengers on the railway stations and on-board our trains.
4. Modernising the railway infrastructure
A modern railway infrastructure is imperative for any transport operator to achieving growth and facilitate development. Only solid businesses can provide services of relevant quality and increase passenger satisfaction. In recent years our railway network has been undergoing extensive modernisation with major engineering work currently in progress. Over recent months, hundreds of labourers worked seven days a week to repair and upgrade lines, equipment and facilities on the line between Slovenia's two largest cities, Ljubljana and Maribor, to increase line capacity, allowing additional trains to be accommodated so as to meet the standards applicable to TEN-T corridors. Despite the difficulties we are facing due to a decrease in passenger satisfaction, modernisation is vital and necessary. Over the next decade, the upgrades made today will help cut travel times and improve the reliability and punctuality of train services.
5. Improving last-mile mobility
In 2018 we started working on several new projects which will bring us closer to optimal last-mile solutions. An additional 18 Park + Ride locations are planned to facilitate parking and simplify mobility for more than 700,000 users each year. Within the next 15 years, passengers will be able to rent electrical vehicles on several major railway stations. The existing bicycle-sharing service will be modernised and introduced to over 200 new locations across Slovenia.
In recent years, extensive work has been carried out into improving the quality of public transport and achieving better satisfaction with passenger services. Nevertheless, many other measures are planned and still need to be implemented. Our strategic goals include a year-on-year ridership increase of three per cent by 2031. We know this number will grow only if we are able to provide a flexible public transport with high standard additional services. Therefore, the experience our customers have on our trains and their perception of our services is central to our efforts.
Rail: The go-to option for future passengers
We are determined to significantly increase passenger satisfaction in Slovenia by pushing forward our aforementioned areas and implementing our ambitious development strategy. An important factor proving that we have set our long-term strategy correctly is the fact that 2018's ridership saw an increase for the first time in five years. With more than 37,000 passengers carried daily, annual ridership in 2018 reached 13.5 million, with projections for 2031 expected to be 22 million.
We are continuously improving and confidently work towards reaching our goals. Our main focus is on our passengers and providing the highest quality services possible. Only in this way can we ensure that the Slovenian Railways and other European rail operators truly will have a bright future ahead of them, becoming the go-to option for future passenger transportation.

Miha Butara is Assistant Director General of Slovenian Railways responsible for the development of Slovenian Railways' passenger division. He holds a bachelor's degree from the University of Ljubljana, Faculty of Economics. From 2014, Miha has been leading and supervising business and technological development of the passenger operator. Among other things he oversaw the implementation of the contract for the purchase of new passenger trains. Prior to his position at Slovenian Railways, Miha was an Advisor to the Director of the national telecommunications company Telekom Slovenija and Director of Marketing and Sales. He also has experience in top managerial positions in several other prominent businesses and fields.