Women Inspiring Rail: Q&A with Aliya Zulaikha Alias, Head of Enterprise Risk Management, Prasarana Malaysia
For our next Women Inspiring Rail instalment, Aliya Zulaikha Alias, Head of Enterprise Risk Management at Prasarana Malaysia, explains how Malaysia is recognising and preparing for the inevitable era of digitalisation, and thus is on track to transform its public transportation system.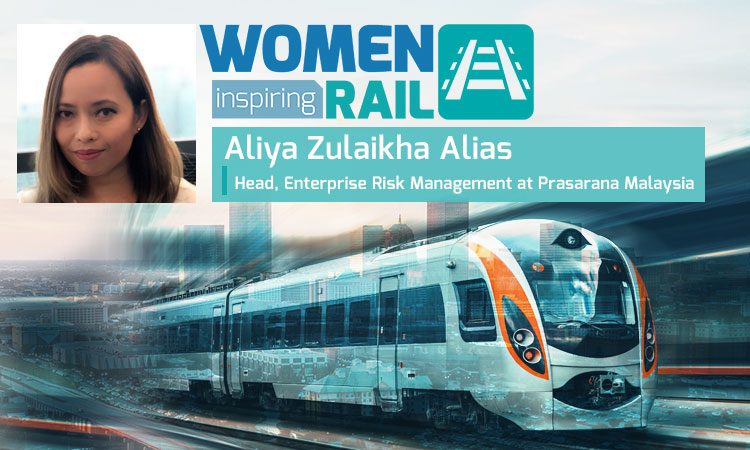 How did your career in rail begin and what does your current job involve?
My career in rail began after almost 12 years of experience of being an internal auditor in various industries such as property development, construction, telecommunications and manufacturing. I was offered a position in the internal audit department of Rangkaian Pengangkutan Integrasi Deras Kuala Lumpur ("RapidKL"), the operator of the national public transport in Klang Valley at the time.
My job as an Assistant Manager of the Internal Audit Department involved going to the ground and learning as much as I could on the process and procedures of running the trains and buses, identifying gaps in internal controls and recommending actions on how to improve deficient processes to ensure that operations are run efficiently and effectively.
In 2009, Prasarana Malaysia Berhad ('Prasarana') – the asset owner of all RapidKL trains and buses – took over RapidKL (the operating company) and I was absorbed into the Internal Audit Department of Prasarana. This merger of the two companies meant that my job scope became larger, covering not only the operation and maintenance of the trains and buses, but also all the business units on the corporate side.
I have grown with the company for the past 11 years and was given the opportunity and trust to head the Internal Audit Department of Prasarana. With every audit assignment that my team had executed, it provided valuable contribution to the management and to the Board on areas that need improvement.
Fast forward to 2019, I have headed the Enterprise Risk Management Department of Prasarana for the past three years. This department plays an important role in addressing the needs of the stakeholders by providing proactive solutions to managing risks within the company. My past experience in internal auditing has helped me appreciate the importance of risk management in a company. While auditing looks at past data and records to identify what went wrong, risk managers are tasked with the role of anticipating "what could go wrong" in every possible scenario that could have an impact on the company's finances, operations, reputation, safety and compliance.
What aspects of your job do you find the most challenging/rewarding, and why?
It was a big challenge when we first introduced and implemented risk management to the company, as it involved more than 10,000 of our employees. It involved going to the ground and holding numerous risk management awareness workshops to reach all levels of staff: From the Senior Leadership Team to the operations team, bus captains, train control centre, etc. in all geographical locations around the country where we operate. Our team worked very hard to reach everyone in the company in order to embed the risk management culture within the company.
We are very proud now that all the hard work has not gone unnoticed. The level of risk awareness throughout the company has slowly but surely risen and has been accepted. Management are very supportive of our risk management activities and has come to appreciate that with every decision to be made, there must always be a formalised risk assessment to be taken into account so that the company will always be prepared with mitigation plans to minimise the likelihood or impact of any given risk event.
What is it about the rail industry that you are most passionate about?
When I see people taking the trains every day, I can't help but feel proud that I played a role, however small, in connecting people.
My job involves anticipating risks or in other words – "what could go wrong". It isn't the most popular opinion as I may sound like I'm always raining on other people's parades, but however positive we would like to have on the outlook, someone needs to be cautious about what could go wrong and what we are going to do if something does go wrong. In every decision or proposals to be made, my team and I will be consulted upon to provide risk opinions and mitigation plans to lessen the likelihood and/or impact of those risks. This involves gathering as much knowledge as possible in the industry, in order to provide meaningful opinions.
What has been your biggest achievement/proudest moment so far in your rail career?
It was to be able to witness and be a part of a major development in the light-rail transit system around Kuala Lumpur. When I see people taking the trains every day, I can't help but feel proud that I played a role, however small, in connecting people.
How has the rail industry evolved since you joined?
Prasarana was only operating three Light Rail Transit (LRT) lines in the city when I first joined in 2008. On 30 June 2016, the Kelana Jaya and Ampang Lines Extension to the existing line was open to the public, with an additional total of 34.7km-long alignment and 26 new stations. With the opening of the extension line, there was an increase in ridership from 200,000 passengers to more than 400,000 per line. It also boosted new property and commercial development along the lines.
On 16 December 2016, the first phase of the Mass Rapid Transit (MRT) line was launched to serve areas which were not previously being served by other lines. The MRT ridership is expected to increase after the second line – which is now under construction – starts its full service in July 2022, as more stations will be integrated into the current rail network.
Malaysia is on the right track in developing its public transportation system, catching up with other developed countries. An extensive, seamless and reliable public transportation network is a key component of a complete metropolitan. More rail lines will be added into the system to support the mobility of some 1.8 million Kuala Lumpur city dwellers and 7.25 million people together living in the Greater Klang Valley.
The National Land Public Transport Master Plan has set a target of 40 per cent for people to commute via public transport by 2030, double than the number recorded in 2015. Nationwide, there are up to 1,601km of railway tracks and some 27 per cent of the distance is within the Klang Valley.
At present, there are 10 rail lines serving the Klang Valley, including the KL International Airport Ekspres which plies between KL Sentral station in the heart of the city to the international airport plus one Bus Rapid Transit (BRT) line which serves the suburb of Sunway in Klang Valley.
The Malaysian rail industry has rapidly and positively evolved over the years, although there are some projects which had to be deferred due to high costs.
As for intercity rail services, Keretapi Tanah Melayu (KTM), the oldest railway company which dates back to the British Colonial era, serves routes from Kuala Lumpur to other cities throughout the country. In August 2010, KTM's subsidiary commenced a fully-electric train service connecting Kuala Lumpur to Padang Besar in the north and Gemas in the south in considerably shorter amount of time, which transformed the way people commute between cities. KTM also operates the Komuter train system which connects cities and towns in the outskirts of Kuala Lumpur on a regular daily schedule, enabling those who reside on the outskirts to be able to commute to the city to their workplace.
To sum it all up, the Malaysian rail industry has rapidly and positively evolved over the years, although there are some projects which had to be deferred due to high costs.
What have been the biggest changes?
One of the biggest changes that I have personally witnessed is the way tickets are being sold. When I first started, paper tickets were still sold over the counter. It has now evolved from being sold by a customer service officer, to the automatic ticket vending machine, to being cashless and ticketless – much like the Oyster card in London. Recognising the inevitable era of digitalisation, we are now preparing for the digitalisation of ticketing systems. Perhaps in the near future, customers will be able to pay the fare just by flashing their mobile phones at the turnstiles.
Who within the rail community has been an inspiration to you, and why?
I would say that my former boss, the late Ahmad Sazali Ismail was a key person who inspired me to excel in my work in this industry. He was the Chief Risk Officer of Prasarana before he passed away suddenly in 2018. Having been in the industry for many years, he had immense knowledge in the entire bus and rail business which he was always ever willing to share with his employees. He was a man with great integrity and was never afraid to speak up. I carry on his legacy by managing the Enterprise Risk Management Department, raising the standards and bringing it up to what was expected and beyond.
What can be done to diversify the workforce in the rail sector?
I believe that in Prasarana itself, the workforce is already highly diversified. There is a good mix of men and women of all employable ages in the company. When we talk about rail, there's always a perception that it is male dominated due to the assumption that it involves a lot of engineering and maintenance works. However, those are not the only jobs involved in running a rail system, although we do have women in those departments too. We even have women train drivers as well. There are so many other areas or business units that are crucial in providing support to the rail sector such as risk management, internal audit, finance, legal, procurement, human resource, information technology, health and safety, facilities management, etc. that could be explored.
What advice would you give to those thinking about pursuing a career in rail?
For young people or undergraduates, I would suggest seeking out for internship roles. Prasarana has opened its doors to accept internship stints from the local universities, to give the undergraduates a glimpse of how it's like to work in a public transportation company. As for young graduates, we provide a management trainee programme to those carefully selected candidates. They will be given the opportunity to experience and learn from every division in the company, rotated throughout the year. There is ample career development opportunity within the rail sector. A big part of my career life has been with the public transportation industry and I have grown from being an Assistant Manager of Internal Audit to the Executive Vice President of the Enterprise Risk Management Department. The possibilities are endless.
If you would like to take part in the Women Inspiring Rail series, or would like to nominate a colleague to part, please email: Craig Waters, Editor, Global Railway Review.
Related regions
Related people