Italo leads the way in private open-access high-speed services
Italy's Italo – Europe's first private open-access high-speed operator – entered the market in 2012 with its first services on the Milan–Florence–Rome–Naples route. Following steady growth in passenger numbers and the procurement of a strong fleet of comfortable and efficient rolling stock, Paolo Belforte, Chief Operations Officer, reflects on the operator's entry to market and highlights their success so far.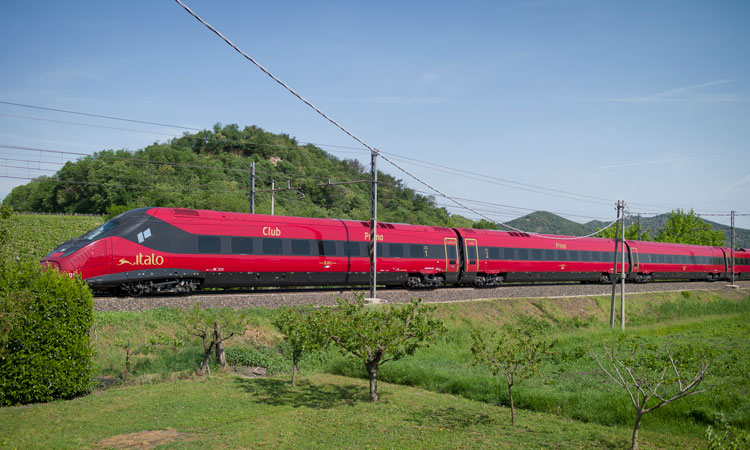 Nuovo Trasporto Viaggiatori is an Italian company operating Europe's first private open-access high-speed service, Italo. Its fleet comprises 25 AGV 575 trains and 22 Pendolino EVO trains (all manufactured by Alstom). Fifteen of the EVO trainsets are already in operation, with seven more due to be delivered in early-2020.
Italo rolling stock characteristics
AGV trainsets are 200m-long with 11 coaches and 462 seats, and are designed to operate at 360km/h. Their articulated trainset style with distributed power and Jacobs bogies eliminates most of the vibration and noise produced in the interaction between wheel and rail, absorbing the movement between cars. This architecture optimises the train's aerodynamics and ensures optimum safety performance, as well as lowering maintenance costs due to the reduced number of bogies. The main advantages of the AGV trainsets cover all aspects of performance: Power/weight, on-board comfort and space, power consumption, safety and maintenance.
EVO trains are 187m-long with seven coaches and 472 seats, reaching a maximum speed of 250km/h. The train is environmentally friendly thanks to its high use of recyclable materials and has been designed to ensure reduced CO2 emissions. Its distributed drive system enhances efficiency and generates energy while braking.
Both trainsets are equipped with a distributed power system underneath the entire train, as opposed to power being concentrated in dedicated locomotives at the front and back of the trainset. This innovative concept makes it possible to eliminate locomotives and make use of the resulting freed up space to accommodate more passengers – an on-board capacity increase of 20 per cent.
There are four classes of service on-board both AGV and EVO trainsets:
Smart: The lowest class, but offering guaranteed quality and convenience
Comfort: Offering a perfect mix between Smart and Prima
Prima: Offering comfort and quality with a special welcome service
Club Executive: The most expensive but comfortable class of the train with complimentary at-seat services along all the trip.
Passenger experience on-board Italo's trainsets has been at the forefront of thinking from the very start of the project. The entire fleet has been equipped for web browsing, information and entertainment. Free Wi-Fi is available in every coach, providing free access to Italo's interactive portal, ItaloLive, which allows passengers to read e-books, listen to music, watch a film or play online games during their journey. Italo has launched and constantly updated an app to book tickets and has renewed its commercial and corporate websites several times in Italo's seven years of service.
Service growth and passenger numbers
Thanks to its growth in terms of fleet and network, Italo will connect with 98 daily services to 26 cities and 30 stations by autumn 2020. Four new cities in the north eastern region are entering Italo's network from 1 September 2019, namely Udine, Pordenone, Conegliano and Treviso.
Seventeen million passengers enjoyed Italo services in 2018. Nowadays, Italo is able to satisfy its travellers in terms of frequencies and services: The frequency of the trains between Rome and Milan (one of the principal routes used by business travellers, on which Italo offers 54 daily services between the two cities) is 30 minutes. In addition to its core services, Italo offers several ancillary services to make travel easier i.e. booking a taxi service, hotels, a tourist guide and so on.
Passenger experience on-board Italo's trainsets has been at the forefront of thinking from the very start of the project.
Furthermore, Italo offers its passengers the chance to use an intermodal service, named Italobus, making it the first Italian company to introduce this kind of integrated 'train+bus' transport. Having begun in the Mediopadana area in December 2015, today Italobus connects 26 cities all year round, and more than 35 during the summer period (introducing several stops in touristic places like Costiera Amalfitana and Matera). Italobus is growing year-by-year and the appeal to travellers is the chance to connect different cities to the high-speed railway network in a very simple way: Through one ticket it is possible to switch from train to bus in intermodal hubs such as Reggio Emilia Mediopadana, Venice Mestre, Afragola and Salerno.
Entry to market and competition
Italo anticipated the European Commission's decision to open the railway high-speed market to competition: In April 2012 the competition was already in place in Italy, while this won't be the case until December 2020 in the other European Countries. The entry in a monopolistic market was a premiere at global level, because there was just one other case of open-access high-speed rail: South Korea in 2016.
In Italy, after more than seven years of liberalisation, the benefits for consumers are clear with a strong increase in demand and reduction of ticket prices. Between 2011 to 2018, demand (in passenger kilometres) has more than doubled, while yield (the revenue divided by the passenger kilometres) has reduced by 40 per cent. This is an impressive result considering that the high-speed rail network did not see any development in the same period (apart from a new, short high-speed rail connection between Milan and Brescia).
Currently, Italy has the lowest high-speed rail ticket prices in Europe, 60 per cent lower than the Thalys service for example (for the same distance travelled).
At the same time, the push of competition drove quality and increased the benefits offered to travellers. Italo and the country's state-owned company both bought new trains that gave a higher frequency of connection along the Italian rail network.
The benefits are not only for the consumer and the Italian economy and businesses (better connectivity), but also for the infrastructure manager, Rete Ferroviaria Italiana (RFI). In fact, it has the possibility to see a higher level of traffic with large private investment in rolling stock.
Competition was possible thanks to the legislation that was implemented in Italy at the beginning of 2000, as aforementioned, anticipating the implementation of the European Rules. It was difficult to enter in a monopolistic market at the beginning, simultaneously attempting to change Italian travel habits, but the creation of the Authority of Regulation for Transport (ART in Italian) helped to clarify regulation.
Future outlook
Liberalisation in Europe will be possible thanks to the Fourth Railway Package and at the end of 2020, more business cases similar to Italo could be replicated in other parts of Europe. This is very important in providing European consumers with the ability to reach their destination at lower prices but with high quality services.
The high-speed rail market could increase by 40 per cent in the next five years1 thanks to a more competitive market. A bigger market is a good opportunity not only for the new entrants, but also for the incumbents to develop their business model.
The success of the Italian model is very attractive for other countries: Several delegations have visited Italo to study and analyse this case. Not only European countries; Italo also received delegations from South Korea, Taiwan and Japan, thus demonstrating the global interest.
Reference:
TRA Consulting estimation
Paolo Belforte graduated in Mechanical Engineering in 2001 and received his PhD in Railway Dynamics in 2005. He worked as Assistant Professor at the Technical University of Milan until 2008. Paolo then joined Italo – Nuovo Trasporto Viaggiatori (NTV), participating in the start-up phase of the company which ended in 2012, with the beginning of commercial service. Since then Paolo has covered several roles with increasing responsibilities and since the end of 2018 has the title of Chief Operations Officer.