Interview Spotlight: Dieter Fritz and Frederick Kübler, voestalpine Board Members
voestalpine Railway Systems Board Members Dieter Fritz and Frederick Kübler discuss the 340 Dobain® HSH® – a new premium rail steel which contributes to voestalpine Railway Systems being regarded once again as a technology leader with system competence in railway infrastructure.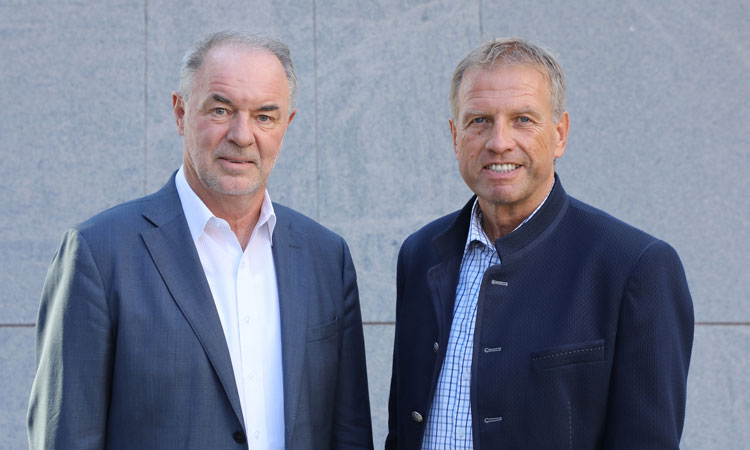 Why has voestalpine Railway Systems created this new premium rail and what is different about it?
Kübler: After intensive R&D, voestalpine Railway Systems have launched 340 Dobain® HSH®, a new premium rail that represents a paradigm shift: maximum safety combined with substantially reduced maintenance requirements. At the OEVG-Congress, the 22nd International Convention of the Working Committee on Railway Technology, this newly developed premium rail was presented to a specialist audience of traffic scientists and experts.
Fritz: In times of increasing transportation demand, the commitment for optimised safety, reliability and customer satisfaction is the foundation of economic and social responsibility. This is where voestalpine, as a pioneer in many sectors, assists and offers new and sustainable solutions in the field of railway technology. In addition to the product highlights, such as ultra-long 120m rails, high-speed turnouts for speeds up to 400km/h or heavy-haul turnouts for axle loads up to and above 40 tonnes, the 340 Dobain® HSH® enriches the voestalpine Railway Systems product portfolio with another trend-setting premium product.
Kübler: Also, voestalpine steel designers have created a milestone in the fact that the 340 Dobain® HSH® is a head-check free rail. While on conventional rails, head-checks appear as a consequence of severe deformation in the wheel-rail contact area, the 340 Dobain® HSH® keeps surface deformation at a minimum. Our R&D specialists have created a rail steel with previously unmatched properties.
How does this new product reduce life-cycle costs and meet network operator demands?
Kübler: The unique microstructure makes this rail steel extraordinarily resistant. It stands out with increased availability and significantly reduced life-cycle costs. We are pleased to be able to present the 340 Dobain® HSH® with these outstanding features.
Fritz: The new premium rail has not been developed to replace all other products, but to be used in circumstances where it will result in the best performance and lowest life-cycle cost. It guarantees higher efficiency for network operators – by highly reduced maintenance requirements, but also by the longer service life of the rail in-track. In practice, this makes the 340 Dobain® HSH® the first head-check free steel with particularly effective advantages in wide curves.
Kübler: More than 100 years of experience in rail production and the exceptional expertise of our engineers makes our unique portfolio of profiles and steel grades possible. With the 340 Dobain® HSH®, voestalpine Schienen GmbH is setting another milestone in its success story. This is a considerable contribution to meet upcoming challenges with new levels of requirements for rail infrastructure.
How does the voestalpine Group plan to move forward and keep its 'Performance on Track' promise?
Fritz: About a year ago, the Metal Engineering Division of the voestalpine Group combined its expertise in high-quality rails, high-tech turnout systems, digitalised signalling and monitoring solutions, as well as service and logistics under the 'Railway Systems' brand, becoming a worldwide provider of complete systems for railway infrastructure.
At voestalpine Railway Systems, we will use every opportunity to support our clients in all phases of the life-cycle in order to enhance safety, reliability and economic sustainability over the long-term and across the entire railway infrastructure system. 
DIETER FRITZ, following his technical education, joined voestalpine in 1980 and held various management positions in the Logistics and Engineering business units and initiated the internationalisation strategy of voestalpine Railway Systems and held Managing Director and Board positions in various companies of this fast-growing global group of companies. In 2011, Dieter became the CEO of the voestalpine VAE GmbH Group, voestalpine's sole-holding business unit for Turnout Systems and Signalling Technology, and joined the Management Board of the division holding voestalpine Metal Engineering GmbH in 2018.
FREDERICK KÜBLER, after graduating in Civil Engineering and Business Administration, worked at Siemens Transport Systems and Pfleiderer Infrastrukturtechnik before joining voestalpine Schienen GmbH in 2003. As Managing Director and Member of the Board since 2004, Frederick heads the worldwide sales and marketing activities and is CEO of the Rail Technology and Track Solutions business unit.