What lessons can train operating companies can learn from Uber?
Uber, not content with up-ending the taxi industry, has its sights firmly set on disrupting the entire travel and transport sector too. But as the ride-hailing app begins to venture into multimodal provision and end-to-end journey planning, this article explores the ways train operating companies and other public transport service providers can learn from it.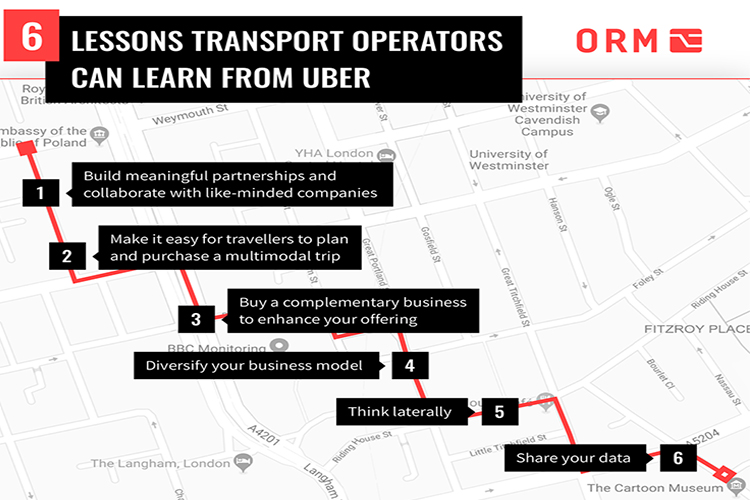 As the ride-hailing app begins to venture into multimodal provision and end-to-end journey planning, this article explores the ways train and bus operating companies and other public transport service providers can learn from it.
Lesson 1: Build meaningful partnerships and collaborate with like-minded companies
Uber has been smart with forming partnerships with key players within the transport sector.
It's partnered with MBTA to provide paratransit services in Boston. Similarly, Uber worked with the town of Innisfil, Ontario, to provide a service to areas outside the reach of conventional transit; and has worked in France to provide late-night connecting services to rail lines in Nice.
In the UK, Uber has teamed up with Virgin Trains, with its passengers being offered the chance to opt-in to text messages that give them a link to download the Uber app, and receive a discount.
This is designed with a two-fold effect – offer Virgin's customers a first/last mile service, as well as to ease pressure on station car parks.
Lesson 2: Make it easy for travellers to plan and purchase a multimodal trip
Uber's trial with Denver's Regional Transportation District enables travellers to seamlessly combine public transit with other options such as ride-sharing, within its app.
Uber app users can see real-time public transport updates, end-to-end directions and an estimated total journey time.
In partnership with Moovit, the real-time transit data and route planning provider and Masabi, the SaaS ticketing and payments platform, riders can also book tickets within the app too.
This means that Uber is now on the first rung of providing its users a multimodal solution platform.
Its next step is to add a 'multi-stage' option for riders, so that they can choose the most cost-efficient and time saving routes available, either travelling on public transport or via an Uber vehicle.
There are plans to offer this in London and Paris soon.
Lesson 3: Buy a complementary business to enhance your offering
Uber understands that congestion and pollution are two of the major concerns for cities in the 21st century.
Recognising that cars are often not the best mode of transport for people to travel around busy cities, it bought a bike company to complement its transport offering.
Uber Bike by JUMP was first piloted in San Francisco in 2018, and was rolled out in Washington DC later the same year. Uber users can now find and book a JUMP pedal-assist electric bike directly from the Uber app. It's environmentally friendly and often a faster way to get around dense and congested cities.
Lesson 4: Diversify your business model
Looking to distinguish itself from rival businesses such as Lyft, Grab and smaller local players, Uber has expanded beyond cars.
It has dipped its toe into the fast-growing food delivery market, launching Uber Eats back in 2014 in San Francisco.
Users across the globe can now order food from participating restaurants on Uber Eats' website or app, and have their meal of choice delivered to their door – by car, bike, scooter or on foot – from as little as £2.
Lesson 5: Think laterally
What else can Uber do in the car space? Rent them of course, using a peer-to-peer model of business.
Uber Rent Powered by Getaround, was launched in San Francisco in 2020. Cars, equipped with Getaround's technology, are available to rent and share instantly.
The idea behind the scheme is that with cars available to instantly rent in the Uber app, fewer people will need to store them in garages for those sporadic grocery store runs, daytime adventures, or weekend getaways.
Lesson 6: Share your data
Data-sharing has opened our world up to endless new inventions. Without data-sharing many of the apps you love and rely on would not be here.
Yet, so many businesses are reluctant to open up their data to the outside world.
Sadly, those that don't move with the times will be left behind, as those brave and bold enough to do it will capitalise on the insights and value derived from data-sharing.
Uber is living its values by recently launching its SharedStreets Pilot.
Working with the DC Departments of Transportation and For Hire Vehicles, SharedStreets has been set up to create new methods for public-private collaboration and data-sharing. The pilot will share data on curb usage across all modes of transportation.
Better understanding curb utilisation can help cities around the world prepare for a future where more and more people are accessing transportation through a combination of shared modes, rather than relying on their own vehicles.
Uber introduced a second pilot in 2019, called Uber Movement, with the aim of collecting anonymised and aggregated Uber data to show travel conditions across different times, days or months, and how travel times are impacted by things such as big events and road closures in a city.
Movement is helping urban planners, local leaders and civic communities make informed decisions for the future of cities.