Tackling the unpredictability of winter weather
In Finland, winter is the longest season and can last several months. The Finnish Transport Infrastructure Agency (FTIA) is responsible for maintaining and developing the country's railway network, whatever the weather, and in an interview with Global Railway Review, FTIA's Railway Director, Markku Nummelin, explains the new solutions currently being tested and how they plan to deal with winter weather in the future.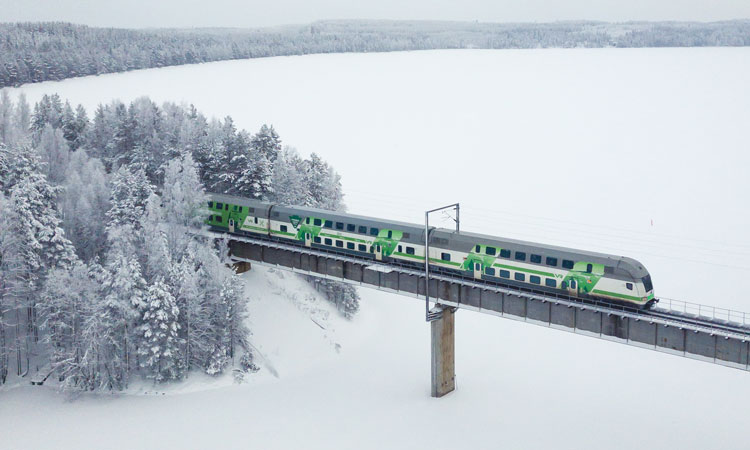 Obviously, there's no hiding away from the fact that winter comes around every year, but weather can be unpredictable, states Markku: "Our recent reports from the Finnish Meteorological Institute have indicated that Finland is not due any significant amounts of snow in next three weeks, but we still need to plan because weather patterns can change and we will need to be prepared."
Although the weather is unpredictable, Markku knows that, once winter weather does arrive, it presents various challenges for Finland's railways, but learning from previous winter periods is crucial to help improve work during the next winter.
"Our previous winter was very harsh," explained Markku, "so we have decided this year to test some new heavy snow removal machines, which are the largest machines of their kind available."
Markku explained that one of the machines will come from Russia, where it is known as a 'snow eating train': "It is capable of removing up to 340 cubic meters of snow and, after we test the machine to see how it copes on our network, we will make the decision about if we think our maintenance contractors should invest and deploy one for us for next winter."
Last winter, Finland suffered from some technical issues on its high-speed lines, which Markku explained was caused by cold weather: "Some speed restrictions had to be put in place because of ground frost, which affects rail tracks," explained Markku. "This, in turn, causes disruptions to our rail services. We will soon have many weeks where temperatures will drop below zero, causing ground frost, so we will work to ensure there is minimal track and service disruption."
In today's modern world, Markku explained that some traditional frost, ice and snow removal techniques are still used, but some alternative techniques are being explored: "I wouldn't say our most-used methods of snow removal activities are very 'modern' but, of course, the forecasts and informational material we receive from the meteorological institute contains a lot of modern data to help us act accordingly. We're also investigating a new high-pressure air blowing technique, currently in a studying phase. A challenge we face concerns rolling stock that can suffer from a build-up of ice pockets, which can cause operational failure. The rolling stock get this from the large quantities of snow and ice which get dislodged along the track when the train runs along it. We hope the high-pressure air blowing technique that can be deployed to work along the tracks can, in the future, help to reduce this issue for rolling stock and, therefore, lead to improved services."
Another element that Markku explained is important is cooperating and making plans with the railway undertakings, management companies and maintenance contractors: "I think it is important for us to work much more closely together than before," he said. "Cooperation is simply not enough – we must actively work together. For instance, our communications with the Finnish Meteorological Institute allow us to predict and prepare for different eventualities and allow us to make arrangements, in advance, to deploy machines in the right areas and allocate maintenance personnel accordingly."
When asked what would be the biggest advice that he could give to other railway infrastructure managers to help them prepare for winter, Markku was adamant in his response: "Most certainly my advice would be to work together. Not only in cooperation, but closely working together, and to ensure you work with the different stakeholders, so you have enough information to help you plan as much as possible ahead."

Markku Nummelin is Railway Director at the Finnish Transport Infrastructure Agency (FTIA). He has written 18 books, mainly about railway technology and history.