Additive Manufacturing at ÖBB: Innovation in railway maintenance
Felix Spiess, Project Manager Additive Manufacturing (AM) and Supply Chain Development Manager, ÖBB-Technische Services GmbH, discusses the implementation of AM at ÖBB and the challenges created by changing the manufacturing and production processes to accommodate the innovative solution.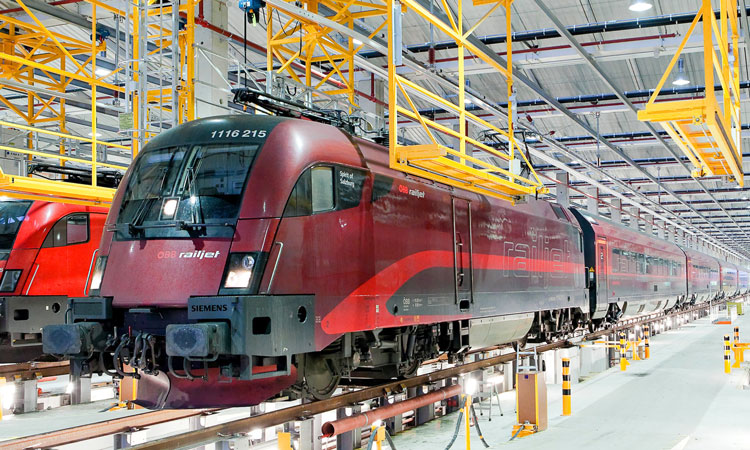 ÖBB is Austria's largest mobility provider, transporting over 469 million passengers and more than 120 million tonnes of goods annually. To ensure smooth rail operations, a functioning infrastructure and the daily availability of more than 6,500 trains must be ensured.
ÖBB Technische Services (ÖBB-TS), the rolling stock maintenance company of ÖBB, receives more than 237,000 spare parts orders each year. From entire wheelsets to socket covers, the portfolio is huge, and almost every part has the potential to cause train failure. One of the most important goals that ÖBB-TS has set itself is to prevent this and to ensure 100 per cent material availability.
Today, the spare parts come from the various vehicle manufacturers and a broad portfolio of Tier 2 and 3 suppliers, but are also prepared and manufactured by ÖBB-TS itself in five large workshops in Austria. For some years now, Additive Manufacturing (AM) has been supplementing the ÖBB production technology map. It all started with the fact that the number of obsolete components in the area of electronic components has increased dramatically, and on-site colleagues could not find replacements in the market fast enough. An alternative solution had to be found, and so the first FFF printer was purchased. Now, there are more than 15 devices in operation within the ÖBB-group of companies, and work is being done to ensure that every colleague, from apprentice to board member, knows what can be achieved in the future with AM.
The challenges of AM development
Initially, only very small plastic parts could be printed on site, as fire protection in the rail sector is very restrictive and certified materials for larger applications were not available. In the meantime, there were already a handful of materials specifically developed for the various application areas of the EN45545 fire protection standard for rail transport. The number of application cases is continuously growing and, meanwhile, more than 3,500 spare parts, also made of different metal alloys, have been implemented in-house and together with external partners. However, there is still room for further development, as more and more polymers with fire protection certification are required for various areas of application. Also, with metal alloys, there are constantly areas of application discovered that cannot yet be covered, as the requirements are very specific, and the total lifecycle of a rail vehicle can easily exceed 40 years.
Currently, European railways have shown, based on various application cases, that AM has reached the necessary degree of maturity to be able to produce safety-relevant components. However, a general understanding of the progress of this comparatively new technology is still largely confined to specialist circles, presenting great challenges for companies. While the experts from the AM industry and machine and material manufacturers want to actively promote technological progress, the knowledge of the possibilities and end-user trust in the technology is still limited to the responsible project teams and those colleagues directly involved in the implementation of use cases.
Becoming more user-friendly
ÖBB has an on-site, intensified rollout programme, and special workshops are held at maintenance plants and service locations. The colleagues on site are shown directly in their area which possibilities are available, tailored to their needs. This is a complex undertaking, because each area, each vehicle and each component has different requirements for AM production. In some plants, the focus will be on the development of production aids, in others on the replacement of obsolete components, and their reworking towards AM and an extended lifecycle. The purchasing department must be provided with different tools for identifying printable components compared to the colleagues in engineering or the electrical engineers.
ÖBB has also begun intensified discussions with its suppliers and partners, many of which already deal with AM production within their own sphere of influence. However, there is no view for the bigger picture and an integrated development along the supply chain and between the partly competing companies – yet. But there is also great potential hidden here. Railway operators and maintenance staff can provide the weak points of the installed spare parts from experience of the daily processes, which the manufacturers usually cannot find out about. Together, components for future vehicles can be further developed and, thus, large blocks of costs can be saved on the development side. On the maintenance side, optimised components prevent breakdowns and reduce the acquisition costs for spare parts, which ensures a more efficient operation. If spare parts are produced 'on demand' by AM – for example, if a spare part must be exchanged at short notice in the context of condition-based maintenance models – then no oversized warehouses have to be kept on site, but production is carried out quickly and sustainably in the competence centre for AM.
The future of AM at ÖBB
In the operational area of ÖBB-TS, AM represents a complementary component in the optimisation of production and maintenance. Through the introduction of lean management methods such as 5S, CIP workshops and the analysis of value flows, improvement potentials in the process are already continuously analysed and implemented. Safe, ergonomic and orderly workplaces are also set up in order to avoid errors and create a better working situation for the employees. Special tools and production aids contribute to the further improvement of the supply chain.
There is still a long way to go before the way of thinking of how the supplementation of conventional production methods by additive production can impact a large company has been accepted by all employees and a corresponding trust has been built up. However, the most important steps for this have already been taken and the successes achieved at ÖBB, and the steadily growing number of applications implemented support this. In 2020, ÖBB intends to more than double the number of use cases with new resources and a well thought out communication strategy.
As in many areas of rail transport, ÖBB has initiated an interesting and future-oriented change in this area, from being a pure user, to a technological leader in the field of AM in rail vehicle maintenance and to actively promote innovation. The cooperation beyond the company and country borders is already working excellently. In the RAILiability working group of the Mobility goes Additive network, the largest European railways are exchanging information on current applications, challenges and the demands on the industry. The aim of this cooperation is to accelerate the lengthy development cycles and to generate synergies that will enable all railway companies to use the advantages of additive production more quickly as standard.

Since 2016, Felix Spiess has been working for the ÖBB Group. In 2018, he accepted the role of Supply Chain Development (SCD) Manager at ÖBB Technische Services GmbH, the entity in charge of service and maintenance of rolling stock within the ÖBB Group. Originally coming from the hotel industry, Felix has a strong focus on excellent customer service. He earned his master's degree in Business at the Vienna University of Economics, with a focus on logistics and supply chain management. In the role of SCD Manager, he is responsible for strategic innovation topics including Additive Manufacturing and sustainability projects, such as alternative traction systems and supply chain optimisation.