Network Rail publishes recommendations to tackle station congestion
Report recommends measures to relieve passenger congestion at 11 stations by 2019…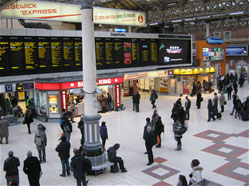 Passengers at London Victoria Station
Network Rail has published an analysis of passenger congestion at stations along with a toolkit of potential measures for the industry to address congestion at stations around the network.
Congestion can affect passengers at smaller stations as much as at the big termini in major cities. The report – the Network Route Utilisation Strategy: Stations – recommends that action is taken to identify the measures needed to relieve passenger congestion at 11 stations by 2019, including Clapham Junction, London Victoria and Liverpool Lime Street.
Paul Plummer, Network Rail's group strategy director, said: "A successful railway station should add to the passenger experience as well as support the economic, social and environmental benefits of rail. As more and more people choose to travel by rail, it's vital that passenger congestion is tackled or some stations risk becoming victims of their own success.
"Working with our partners from across the rail industry, we have identified a number of stations that would benefit from cost effective measures to reduce congestion and improve the travelling experience for passengers."
Today's publication takes in to account comments received following the publication of the draft route utilisation strategy for consultation in May 2011.
Related topics
Related organisations