New London Southend Airport railway station officially opens
London Southend Airport officially open its brand new railway station…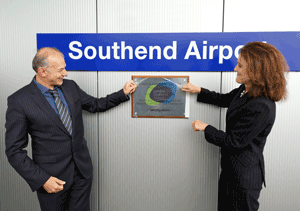 Andrew Tinkler Theresa Villiers unveil the commemorative plaque
Minister for Transport, Theresa Villiers MP joined Stobart Group CEO Andrew Tinkler, COO William Stobart and Stobart Air Managing Director Alastair Welch at the company's London Southend Airport today (21 September 2011), to officially open its brand new railway station.
Operational since July, the all-new railway station is on the Southend Victoria to London Liverpool Street line, offering up to eight services to London per hour and taking passengers from the airport into the City of London in just 53 minutes, or to Stratford – venue for the Olympics in 2012 – in 44 minutes. Uniquely, the railway station is operated by airport owners Stobart Group's rail division, Stobart Rail, making all airport and railway station staff Stobart employees – a brand synonymous with excellent customer service, unrivalled efficiency, friendliness and smart operations.
Situated in the heart of the airport, fewer than 100 paces from the new terminal building currently under construction, the station is an integral part of the new terminal development, designed to maximise efficiency and ease of use for passengers. Part of the new terminal's service standard is a commitment to no more than four minutes waiting time at security, and 15-minutes from 'plane to train' target for passengers carrying hand-luggage only.
Andrew Tinkler said "The new railway station is a key part of our offering as a new airport for the region – whisking people into central London in under an hour, which is very competitive with the other airports around the capital. We are very proud of the new Stobart Rail-built station, and I'm personally delighted to see it officially opened today by such a senior figure in the Government's Department for Transport. I hope Theresa Villiers MP, having experienced the service for herself today, will see the Stobart ethos – or obsession – with efficiency and logistics is very evident here."
Under Stobart's ownership, the airport has achieved significant growth in the last two years, with several new carriers signing up to use the new London Southend facilities. Most significant amongst these is easyJet, which, from April 2012 will launch 70 departures each week with nine routes, including favourites such as Amsterdam, Alicante, Barcelona, Belfast, Ibiza, Jersey, Malaga and Mallorca, with more to come as the new service matures.
In addition, Ireland's Aer Arann started operating two daily return flights to Galway and Waterford earlier this year, and FlyBe continues its weekly peak-season services to Jersey. The airport's newest partner is Jetisfaction, which soon will offer regular services to Germany.
Transport Minister Theresa Villiers said "I firmly believe that regional airports have an important role to play right across the country, providing domestic and international connections and contributing to local economies."
She added "London Southend Airport is an important new gateway for the region and is another example of Olympic legacy in the Thames Gateway. Stobart Group and its airport management can be rightfully proud of the work they have done in developing the facilities at the airport and I wish them all the very best for the future."
Continued development at London Southend has resulted in significant new employment in the region, with the airport campus already employing some 1,500 – a figure that is set to grow to over 2,000 by next summer.
Alastair Welch added "This is the most significant milestone in the airport's development so far under the Stobart Group, seamlessly linking us to central London and other key regions along the line – crucially Stratford, and perfect timing for continued developments there, including Westfield shopping centre – Europe's largest indoor retail destination. It has been a busy summer, with the opening of our new air traffic control tower, the start of works on the runway extension, the new airport hotel, new airline partners coming on board and the resulting job opportunities. The next project to complete is the new terminal building, which will be opened early next year."
He added "Our thanks to Theresa Villiers MP and the DfT for their continued support of London Southend Airport, and also to National Express East Anglia for their partnership in getting the railway station up and running."
easyJet's Customer and Revenue Director, Cath Lynn, said "Our congratulations to Stobart Group and the airport on completion of this further milestone in readiness towards the launch of easyJet flights from London Southend next year. With nine routes already announced by easyJet and the very convenient location of the new railway station within the heart of the new airport developments, Stratford and central London are now just a short journey away from the South East's latest and most modern European gateway."
Aer Arann CEO Paul Schütz added "Aer Arann's passengers from Galway and Waterford have been enjoying the excellent service at London Southend since March, and now with the new railway station fully up and running, their experience of the airport and fast, convenient journeys onwards to London are even better. Congratulations to Stobart Group and the airport on another very well executed development in the continued transition of London Southend into a key airport for the capital and the broader South East region."
The new railway station project represents a private sector investment of £16 million by Stobart Group, with other major developments such as the runway extension, new terminal and hotel set for completion in 2012 – a year in which passenger numbers at the airport are set to reach one million, and a figure that is expected to double within the decade.
Find out more at www.southendairport.com