New Year; new signalling; better railway for East Kent
A two-year project to renew the 60-year old signalling along 62 miles of railway in East Kent will be completed…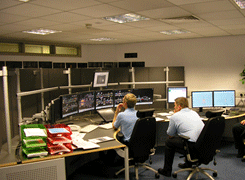 The new signalling centre at Gillingham
A two-year project to renew the 60-year old signalling along 62 miles of railway in East Kent will be completed over the Christmas and New Year period when the new system is switched on. This will allow capacity to be increased andreliability improved, resulting in better journeys for passengers.
By 3 January 2012, Network Rail will have installed 188 signals, 80 sets of points and a new level crossing on the routes from Sittingbourne to Minster via Ramsgate and Faversham to Buckland Junction (near Kearsney) via Canterbury East. The old system, which was installed in the 1950s and uses levers, bells and pullies to control signals and points, is being replaced with a modern computerised system and simplified track layout. This will give signallers more flexibility when control train movements.
The new signalling will be controlled from a new, state-of-the-art signalling centre in Gillingham. The signal boxes which are currently used at Faversham, Margate, Ramsgate, Minster, Canterbury East and Shepherds Well will close.
Dave Ward, Network Rail's route managing director for Kent, said: "This is great news for passengers. The technology is more reliable, allows more trains to run and faster, and gives signallers more options when handling trains, improving people's journeys. This £120m investment in the latest signalling technology brings the railway in east Kent into the 21st century and on a par with leading railways in Europe, Japan and the USA."
The majority of new equipment has now been installed. Pre-testing is already underway and the full system will be switched across in phases over the Christmas / New Year period. This will result in some sections of the line being closed and a bus replacement service in operation.
A Southeastern spokesman added: "The new signalling system will help provide passengers with a more reliable service. We are working with Network Rail to ensure any disruption is kept to a minimum."
Related organisations
Related people