OEM Technology Solutions wins NSW Technology export award
OEM Technology Solutions has won the major technology export prize at the 2011 NSW ATS Patrons Awards…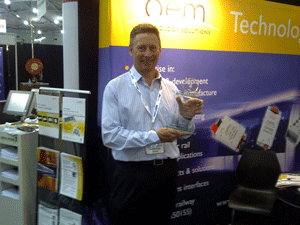 Richard Gobee with Award 3
Sydney Company OEM Technology Solutions has won the major technology export prize at the 2011 NSW ATS Patrons Awards held recently in Sydney Australia.
NSW Deputy Premier Andrew Stoner said the ATS Patrons Award for Outstanding Export Achievement celebrates outstanding export performance by companies in the Australian Technology Showcase program, managed by NSW Trade & Investment.
"Congratulations to Artarmon Company OEM Technology Solutions for winning the ATS Patrons Award for Outstanding Achievement in Exports" Mr Stoner said.
OEM receives $15,000 prize money from NSW Trade & Investment to further develop their international markets as well as commercialisation support from the ATS Patron companies Invetech, PricewaterhouseCoopers and Spruson & Ferguson.
OEM Technology Solutions provides technology systems for rail and transport operators to centrally control train doors, heating, ventilation, air conditioning, power, telecommunications, video systems and location services.
"OEM is exporting its technology into South-East Asia, North America, South America and Europe and reports sales growth of more than 30 per cent per annum over the past three years, primarily due to exports, while committing 7.7 per cent of revenues back into research and development," Mr Stoner said.
"OEM's major international customers include global firms such as Nokia Siemens Networks, Knorr Bremse, Faiveley Transport, Thales and Vossloh Kiepe."