Vossloh to supply EUROLIGHTs to Britain and books additional order for six EURO 4000s
Vossloh has booked an order for its new EUROLIGHT developed by Vossloh Rail Vehicles, Spain…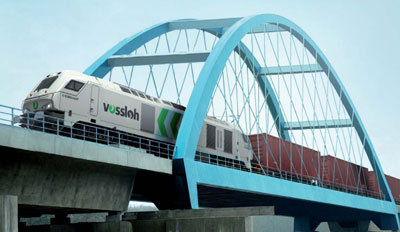 The British cargo hauler, Direct Rail Services (DRS), will operate 15 diesel-electric locomotives from this family, developed by Vossloh and the client in a joint effort especially for the UK market.
These locomotives are remarkable for their relatively low weight of 79 t combined with a high rating of 2,800 kW. Their cousins, the EURO 4000 and EURO 3000, weigh 123 t and 88 t, respectively. Their low weight and a maximum speed of 160 km/h allow the EUROLIGHT to negotiate both main and secondary lines. The locomotives will be built at Vossloh's plant in Valencia, Spain, and are scheduled for shipment starting from the end of 2013. "The contract from Direct Rail Services underscores the confidence in our new products. The EUROLIGHT addresses a strong customer need for lightweight yet powerful locomotives," says Werner Andree, CEO of Vossloh AG.
In January as well six EURO 4000 locomotives were ordered to be run by Voies Ferrées Locales et Industrielles (VFLI), France's third biggest railway operator. VFLI will be shipped the units starting from January 2013. Of the EURO 4000, as many as 77 units have already been sold to destinations in and outside Europe including Germany, Spain, Portugal, France, Belgium, Israel, Sweden, and Norway. The EURO 4000 is Europe's most powerful locomotive, adapted to all European safety, environmental, and signaling standards.
Both contracts are worth nearly €70 million.
Related organisations
Related people