Regional trains for Sochi: Siemens presents the first Desiro RUS
Russian Railways (RZD) visited their first Desiro RUS regional multiple-unit train at the Siemens factory in Krefeld…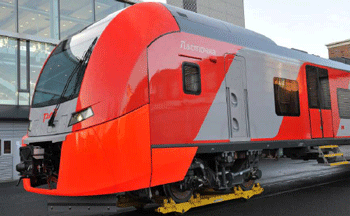 Russian Railways (RZD) visited their first Desiro RUS regional multiple-unit train at the Siemens factory in Krefeld and released it for shipment: Delivery by ship to Ust Luga is scheduled to start in February. From this Russian sea port, the trains will continue their journey on Russian tracks to the Saint Petersburg depot, from where the trains will start their homologation trips.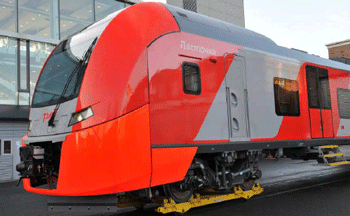 The production of the Desiro RUS in the Siemens factory in Krefeld started in April 2011. Nine months later, at the end of January 2012, Siemens and RZD signed the release for the shipment of the first of 38 five-unit vehicles. Delivery to Russia is scheduled to start mid-February. Due to its height and width of almost five and three and a half meters respectively, the vehicle is presenting major challenges for the Siemens logistics specialists: The coaches are too wide and too high to transport all across Germany to the Sassnitz ferry port (Ruegen) by rail or road. For this reason, river and sea transport from Krefeld via Amsterdam to the German Island of Ruegen was the right choice. For the very first time, the coaches will be placed on the rails they were built for – i.e. Russian broad gauge tracks of 1,520 millimeters in width – and coupled together to form a train set. Afterwards, a locomotive will push the Desiro RUS along the rails into the cargo compartment of the railway ferry. Its arrival in Ust Luga is scheduled for March 2012. From this Russian sea port, the regional multiple-unit trains will be transported to a depot in the Saint Petersburg area for their first test trips.
The new regional trains will provide for increased comfort for both passengers and train personnel. When compared with the trains currently in operation in Russia, the new Siemens train consumes approximately 30 percent less energy. The Desiro RUS, affectionately referred to as "Lastochka" by RZD (the Russian word for "swallow"), can reach a top speed of up to 160 kilometers per hour. This rolling stock is a further development of the Desiro ML and was customized to meet the requirements of the Russian market – including e.g. resistance to temperatures of up to 40° (Celsius) below zero, larger railcar bodies and wider bogies.
In 2009 and 2010, Russian Railways placed contracts for a total of 54 Desiro RUS vehicles for revenue service at the 2014 Olympic Winter Games in Sochi. The first 38 will be completely built in Krefeld; the remaining 16 will be manufactured in Yekaterinburg on the basis of increasing localization. Siemens has just begun investing approximately € 200 million in the construction of a factory in this city. In addition to production, Siemens will undertake the maintenance of the rolling stock over a period of 40 years. In total, the manufacturing and maintenance contracts are worth almost € 1.1 billion.