Cross River Rail's first TBM breaks through at Roma Street
Cross River Rail's transformational project achieves its biggest milestone yet, as Tunnel Boring Machine (TBM) Else, breaks through a rock wall leading into the underground cavern beneath Roma Street.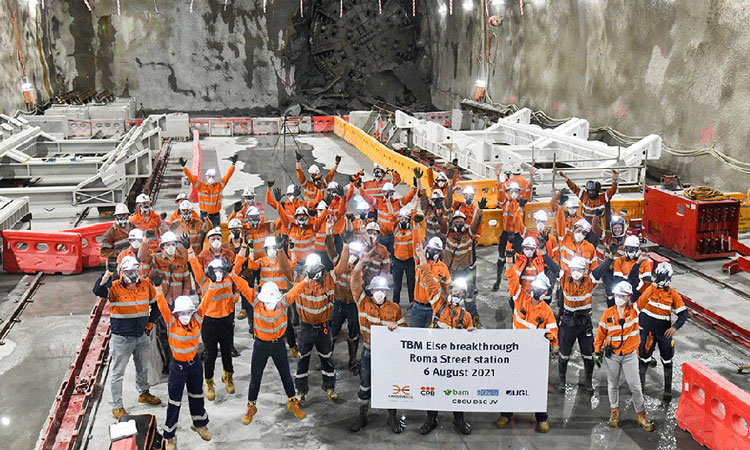 Credit: Cross River Rail
TBM Else launched from the Woolloongabba site in early 2021 and tunneled 2,580m beneath the Brisbane River and Melbourne city centre (CBD), before reaching Roma Street. Both TBM Else and the second of the machines, Merle, work at a rate of 20m to 30m per day, excavating 3.8km of the 5.9km Cross River Rail twin tunnels. Furthermore, the TBMs continue to install over 27,000 concrete segments each weighing 4.2 tonnes, along the tunnel walls. With a tunnel stretching more than 2.5km from the future Woolloongabba station reaching to Roma Street, Queenslanders will be able to travel to, from and through Brisbane. 
Additionally, the future Woolloongabba and Roma Street stations are key components to securing the 2032 Olympics. A proposed indoor arena at Roma Street will be a potential partner to The Gabba as a key venue for the 2032 Olympic and Paralympic Games.  Furthermore, the same section of tunnel that the 1,350 tonne mega-machine has just completed excavating, will be used throughout the 2032 games to travel sports fans between the athletics and swimming events.
Keeping COVID-19 safety measures
As part of the Roma Street Station rebuild, there are 14 active worksites already underway, with more than 2,900 employees of which more than 370 are directly involved in building Cross River Rail's twin tunnels. A crew of up to 15 people work in a TBM at any one time. Despite COVID-19, additional health and safety measures have allowed workers to continue working through the use of segregated work teams and 'zones.' Whilst construction continued throughout the COVID-19 pandemic, face-to-face contact only remained in critical meetings, strong social distancing measures were implemented and all non-essential travel between or to the worksites were ceased.
Busway developments
The project initially proposed moving the Inner Northern Busway (INB) underground, but further assessment and consultation with the property sector concluded that commuters are more likely to change between above ground bus and rail services. Therefore, over-ground services continued and the INB will not compromise future development in the precinct. However, the Cross River Rail's project will include upgrades to the length of at Platform One, as well as architectural refurbishments to Platform Two and the existing subways that connect all 10 of Roma Street's above ground platforms. The developments will align with the modern design of the new ground and main station plaza, which will enable an improved station and journey experience for passengers.
TBM Merle is also expected to break through at Roma Street in upcoming weeks, with both machines continuing through to the project's northern portal at Normanby and emerging by the end of 2021.
Related organisations
Related regions