Transformative upgrades due for rail freight on North Transpennine route
The Rail Freight Group (RFG) has welcomed the announcement that the North Transpennine route is due to be upgraded to allow shipping containers to be moved by rail.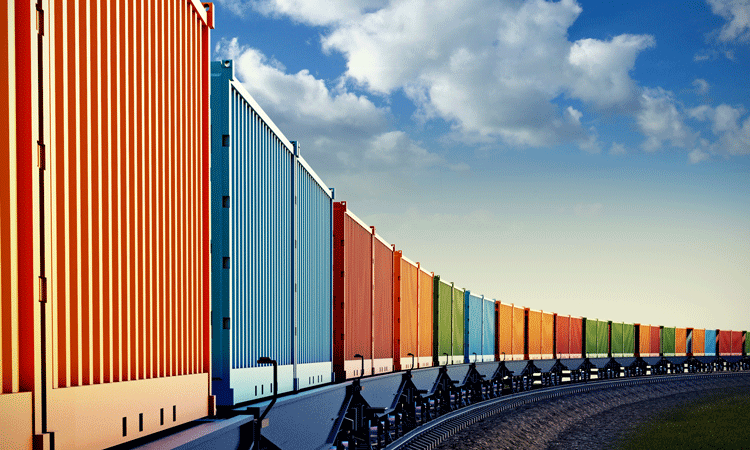 Recently published by the Department for Transport (DfT), the Integrated Rail Plan (IRP) has stated that 'gauge clearance' – which allows shipping containers to move on rail wagons – will be undertaken as part of the first phase of the Northern Powerhouse Rail (NPR) project. The Rail Freight Group (RFG) has welcomed this news, as the government's plans will also allow for additional capacity for freight trains, which could be completed in the first phase if a third track between Huddersfield and Marsden is delivered.
Currently, the major freeports on the East Coast and West Coast of England, including Humber, Tees, and Liverpool are not able to move containers by rail to the cities across the north of England. This crucial scheme will therefore allow new services to start, removing thousands of HGVs from the region's road network, and significantly reducing carbon emissions.
RFG also welcomes news that the Transpennine route and Midland Main Line are to be electrified, allowing electrically hauled freight services to be introduced. However, there are concerns over some aspects of the IRP, which could reduce capacity for freight or create bottlenecks where new NPR and HS2 trains are planned to share the existing infrastructure.
Mike Hogg, RFG's Northern Representative, said: "The upgrade of this route has been one of RFG's main campaign priorities in the last five years, and an absolute priority for our members in the region. We are delighted that the government has confirmed gauge clearance for freight and set out plans to develop much needed new capacity on Transpennine."
Maggie Simpson OBE, RFG Director General, said: 'The north of England needs transformational infrastructure to allow more rail freight to operate, taking lorries off roads and helping businesses work towards decarbonisation. Although many questions are yet to be resolved, the priority works on the Transpennine are a key enabler of that growth, and we strongly welcome the government's commitment."