Tests begin on DAC freight train
A freight train with innovative digital automatic couplers (DAC) has been launched in Germany for a period of testing, sparking a digital revolution in rail freight transport.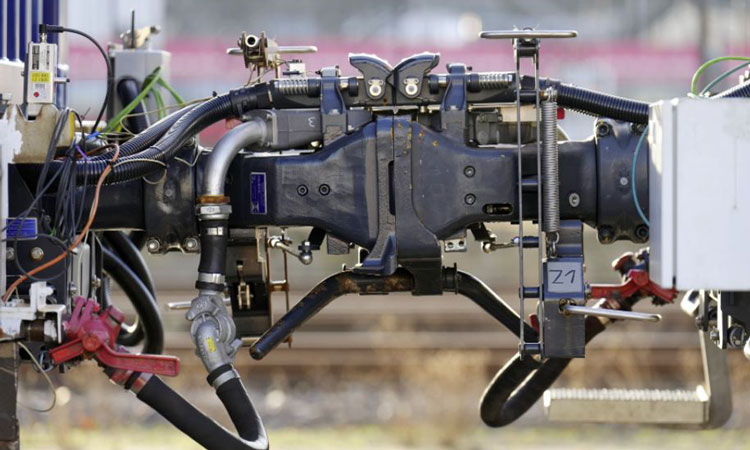 Credit: DB AG/Oliver Lang
A train with innovative digital automatic couplers (DAC) has commenced a practical test due to last several months.
Germany's Federal Minister for Digital and Transport, Dr. Volker Wissing, gave the train the symbolic departure signal for its journey across Europe.
Digital automatic coupling (DAC) is an essential part of the digitalisation of freight trains. It is therefore a key lever for making rail more competitive than road. DAC makes it possible to couple freight wagons automatically. The train connections for the brakes are also made automatically.

DAC makes faster, automated shunting processes possible. Freight trains can become longer and heavier with the new coupling technology and therefore make a significant contribution to meeting European climate targets.
The Federal Minister commented: Bringing the growing volume of transport into line with our climate protection goals is one of the greatest challenges of our time. Rail is the key to this – even if we have some catching up to do in freight transport. True to our motto 'Dare to make more progress', we will solve a problem that has existed for more than 70 years with the EU-wide introduction of a standardised automatic coupling system and catapult more than half a million freight wagons into the 21st century. A much-needed transformation that cannot wait another day."
Daniela Gerd tom Markotten, DB Board Member for Digitisation and Technology, said: "The DAC makes freight wagons smart and fast: when coupling, but also when driving. With this technology, not only can more freight cars run on the rails; it also enables rail traffic to be densified, which benefits everyone. Without the DB engineers and their know-how, this coupling would not exist. We make them ready for series production together with the manufacturers. We're getting the DAC on track!"
Sigrid Nikutta, DB Board Member for Freight Transport, said: "The new coupling fundamentally changes freight transport on rails and gives us the speed we need to save the climate. And it changes the previous hard work at the freight yards: around 70,000 times a day, our employees in shunting operations have to balance the coupling brackets, which weigh up to 20kg, to shoulder height in order to couple trains. Digitalisation and automation of train operations send a strong signal to our logistics customers: goods belong on the rails. Each of our trains saves 80 to 100 per cent CO2 compared to road transport. And with the DAC we are making the rail system much simpler and faster."
The test DAC freight train will travel from Germany to Austria and then to Switzerland. Other EU countries will then follow. The DAC is being tested in different driving situations than would be possible in Germany. These include steep inclines, tighter curves or other climatic conditions. The test drive should lead the DAC to series production.
The practical test is to be completed at the end of 2022.