Final Class 484 train arrives on Isle of Wight as last Class 483 departs
The fifth and final Class 484 train has arrived on the Isle of Wight, signifying the biggest transformation of the Island Line since it was electrified in 1967.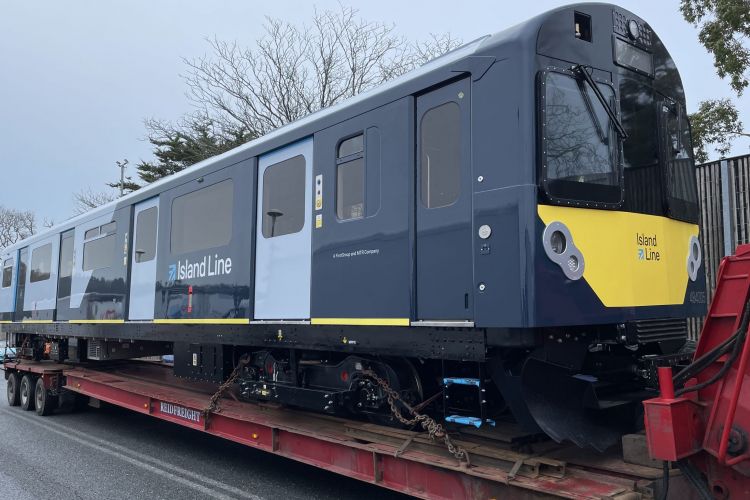 Credit: SWR
South Western Railway (SWR) have announced that their New Island Line fleet has reached full complement as the fifth and final Class 484 train has arrived on the Isle of Wight, just 24 hours before the last of its predecessors are set to begin its journey to its new home with the London Traction Transport Group. The two-car train made its way to Sandown and will be now subject to several tests before serving customers.
Meanwhile, the last 483 train, which had run on the Island Line from 1989 up until 2021, is due to start its move to the London Traction Transport Group on the mainland. The five new trains form an integral part of the £26 million Island Line upgrade. The upgrade has seen the Class 484 trains running through improved stations and along enhanced infrastructure.
The new trains have significantly improved the customer experience, with upgrades ranging from better interiors to plug sockets, free Wi-Fi and wheelchair spaces. The railway's track has also been significantly enhanced, helping to improve customer comfort, while a new passing loop at Brading will usher in a new, regular 30-minute train service, aligned to the ferry timetable. At several stations, new ticket vending machines and Customer Information Screens have been installed.
"The biggest transformation of the Island Line since 1967 takes another step forward as we welcome the final Class 484 and bid a fond farewell to the last Class 483," Alex Foulds, Commercial Projects Director for SWR, said. "Combined with upgraded infrastructure and station improvements, these new trains are helping to deliver the modern, punctual and accessible railway that the Island's residents and visitors expect and deserve."