LTG Cargo commence intermodal freight transportation in Germany
LTG Cargo have launched intermodal freight transportation to Duisburg to further pursue its diversification goals.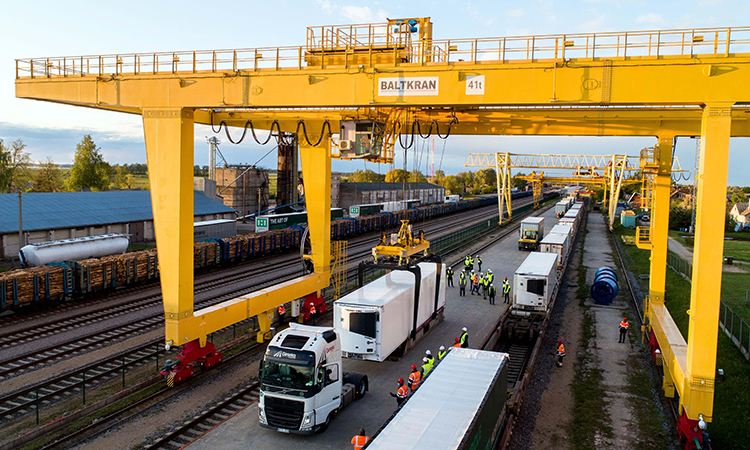 Credit: LTG Cargo
LTG Cargo, the freight branch of Lietuvos Geležinkeliai (LTG) Group, has launched intermodal freight transportation to Duisburg in Germany to further pursue its diversification goals. The new freight transportation route will open up an opportunity for customers to access by rail one of Europe's most important industrial hubs and the world's largest inland waterway port. 
The first regular train from Kaunas Intermodal Terminal (KIT) to Duisburg will leave on 4 April. This is the first international freight route to the West to be served by LTG Group companies in three different countries.
"Now we are actively working to offer the market as many opportunities as possible for rail connections with the West," Eglė Šimė, CEO of LTG Cargo, said. "Upon reaching Duisburg Intermodal Terminal, opportunities will be open to customers to further transport semi-trailers and containers by rail to other terminals. Direct trains from Duisburg run regularly to terminals in Germany, Italy, Poland, Belgium, the Netherlands, and Sweden. In addition, there is a possibility of rail links with France or even Great Britain."
LTG Cargo team will provide transportation services in Lithuania, whilst transport operations will be carried out by LTG Cargo Polska in Poland and Germany, a subsidiary of LTG Cargo. The progress achieved over the last year and the successful operation of the subsidiary in Poland will enable to offer our customers a more sustainable and cost-effective way of transporting freight to and from Central Europe. Freight transportation will be organised using the capacities of the companies, i.e., by taking ownership of all logistics solutions needed.
The new route KIT-Duisburg-KIT will be 3,040 km long. The train will run three times a week in both directions and will be able to carry up to 36 semi-trailers and containers with multiple goods per journey. In the coming months, the company also intends to establish cooperation with new customers in Poland and seek ways to help Lithuanian businesses import raw materials from Central European countries.