Wabtec agree to modernise 330 Norfolk Southern Locomotives
Wabtec have announced an additional multi-year order from Norfolk Southern to modernise 330 locomotives, furthering fuel efficacy and reducing the emissions of the fleet.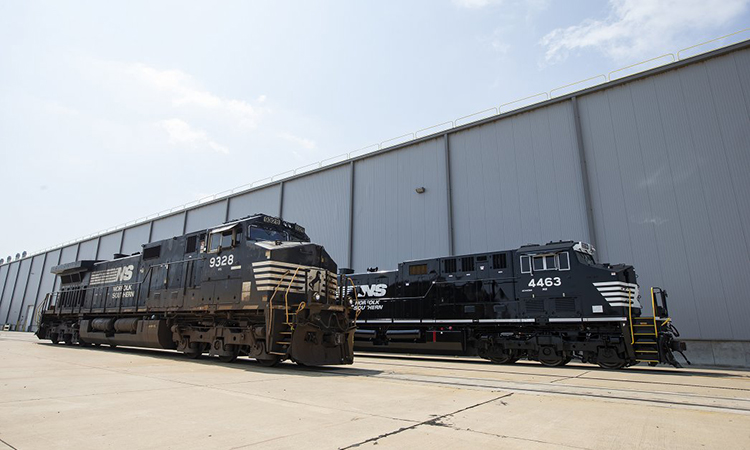 Credit: Norfolk Southern
The Wabtec Corporation has announced an additional multi-year order from Norfolk Southern to modernise 330 locomotives as part of its continued partnership. This deal is part of Norfolk Southern's ongoing efforts to further improve fuel efficiency and reduce emissions from its fleet. With each modernised locomotive, Norfolk Southern's carbon emissions are reduced by more than 500 tonnes per year.
"Modernising locomotives in our fleet will improve operational performance and reliability," Tom Schnautz, Vice President of Advanced Train Control for Norfolk Southern, said. "Importantly, it will also help us achieve our science-based target of a 42 per cent reduction in emissions intensity by 2034."
Wabtec will modernise D9-44CW locomotives that are more than 20 years old and transform them into AC44C6Ms, which will add another 20 years of incremental life to each locomotive. The modernisations will yield significant dividends per locomotive, including fuel efficiency improved by as much as 25 per cent; a more than 40 per cent increase in reliability; haulage ability increased by up to 55 per cent; and a reduction of maintenance, repair, and overhaul expenses by 20 per cent.
"Our modernisation programme allows Norfolk Southern to enhance its existing fleet by bringing the aging locomotives' performance to the latest standards," said Pascal Schweitzer, President of Wabtec Freight Services. "Norfolk Southern are realising outcomes including increased tractive effort, fuel efficiency, reliability and adhesion, which reduce maintenance costs."
Wabtec's modernisation programme is a key component of Wabtec's sustainability efforts. It updates aging locomotives with customised solutions that range from simple changes like control system upgrades to complex restorations, such as the comprehensive transformation of an aged DC locomotive into an AC locomotive outfitted with state-of-the-art digital technology.