CargoBeamer launches new rail connection between Cologne and Sète
CargoBeamer has opened a line between Cologne in western Germany and Sète in southern France, ensuring environmentally-friendly transportation as a result.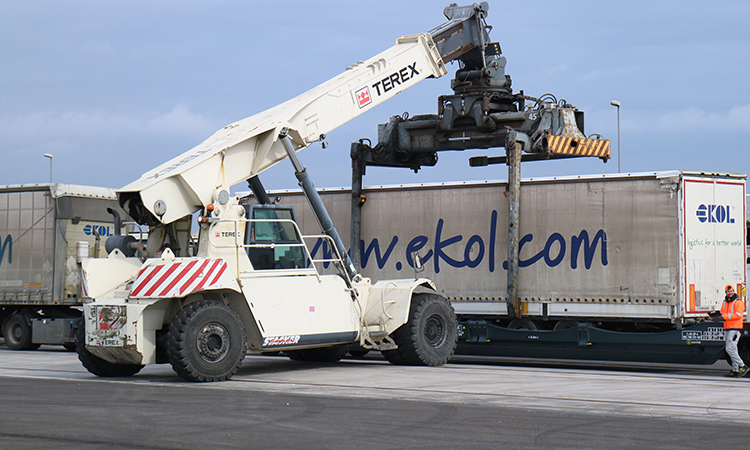 Credit: CargoBeamer
CargoBeamer has launched a new connection for the unaccompanied transport of semi-trailers by rail. The operator for intermodal trains has established a line between Cologne in western Germany and Sète in southern France. While trains will run on a two-rotation-frequency per week, semi-trailers, swap bodies and containers can be transported in an environmentally-friendly way on rail. Together with the intermodal service provider primeRail, CargoBeamer serves as operator of the trains, being responsible for their planning and dispatching. As the Danish shipping and logistics company DFDS acts as the sole customer, Cologne – Sète becomes be the first service dedicated to one client exclusively in the portfolio of CargoBeamer.
The slots on the trains are allocated by DFDS. Each train can carry 38 trailers on T3000 wagons. From Sète, an option to extend the transport by ferry across the Mediterranean Sea to Yalova in Turkey is provided. The French company Europorte serves as the traction partner for the Franco-German line. Europorte is a subsidiary of the Getlink Group, which also operates the Eurotunnel, the only rail link between France and the United Kingdom. By adding Cologne – Sète, both companies expand their cooperation after already working together on the unaccompanied rail transportation of semi-trailers between Calais (FR) and Ashford (UK) since September 2021.
With the new service, CargoBeamer and its partners are enabling the environmentally-friendly transport of goods on rail on yet another lane. Compared to road transport, the CO2 emissions emitted during transport between Cologne and Sète are reduced by around 85 per cent per semi-trailer. As a result, 45,000kg of greenhouse gases are saved with each train, which once again proves that rail is the transport mode of the future and will play a major role on the way towards climate-friendly logistics. Additionally, the unaccompanied transportation of semi-trailers, in which the driver and tractor unit do not travel on the train, also helps to relieve the rapidly increasing shortage of truck drivers in Europe.
"We are very pleased to add another line to the CargoBeamer network with the Cologne – Sète connection," Boris Timm, Chief Operating Officer of CargoBeamer, said. "By establishing this service, which is specially tailored to the requirements of DFDS, we can once again expand our portfolio and send a strong signal to the market about how flexible our rail services can be. Together, we are continuously working to create new and environmentally-friendly transport lanes to make rail one of the most important transport modes of the future."