MPA and CN reach agreement on port of Montreal's Contrecœur expansion
MPA and CN have reached an agreement in principle to develop the rail component of the Port of Montreal's Contrecœur expansion.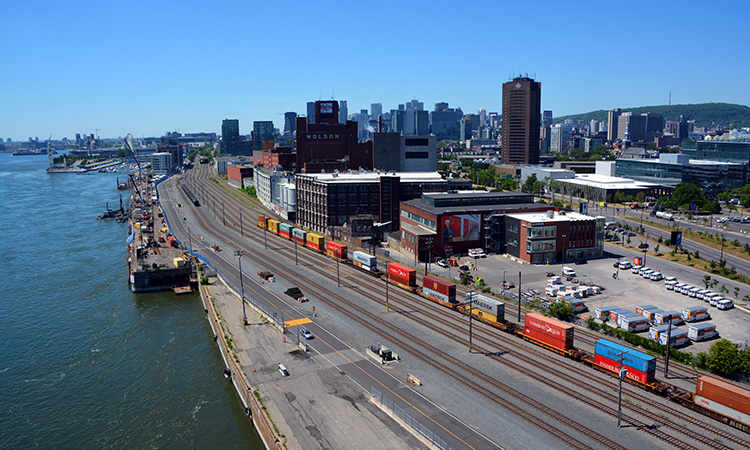 Port of Montreal railway terminal
The Montreal Port Authority (MPA) and Canadian National Railway (CN) have announced that they have reached an agreement to integrate rail transport at the MPA's new container terminal in Contrecœur. This initiative will help maximise the terminal's efficiency and ensure a competitive commercial offering.
Along with a private partner that will be retained to develop and operate the terminal, the parties will define the technical aspects of the project's intermodal service. The agreement will lead to stronger market positioning of the new terminal with port users and give companies greater access to key markets in the North American industrial heartland, particularly those in Ontario and the U.S. Midwest.
"The Contrecœur container terminal is a strategic project for Quebec's economic development, which will make it possible for local businesses to be more resilient and keep growing," Martin Imbleau, President and Chief Executive Officer of the MPA, said. "This partnership with CN will ensure optimal integration of rail-related intermodality for strategic, competitive and enhanced access to key markets such as Ontario and the U.S. Midwest, to the benefit of Port of Montreal user companies and the ultimate client, the consumer."
The CN rail line is already in place in the area covered by the Port of Montreal's expansion in Contrecœur. In addition to establishing an efficient intermodal service, the partnership aims to ensure close cooperation between CN, the MPA and the private partner that will be selected to design, build, finance, operate and maintain the future terminal, following a procurement process led by the MPA.
"This will help support our long term, sustainable growth," Tracy Robinson, President and Chief Executive Officer of CN, said. "We are pleased to partner on this agreement. Teaming up with the Montreal Port Authority and future partners allows us to design an efficient rail served terminal to provide customers with a high quality, consistent and safe intermodal service on our network."