HS1 Ltd to improve station experience with passenger flow technology
HS1 Ltd will use technology that is able to pin-point and count every person in St Pancras International, improving passenger flows.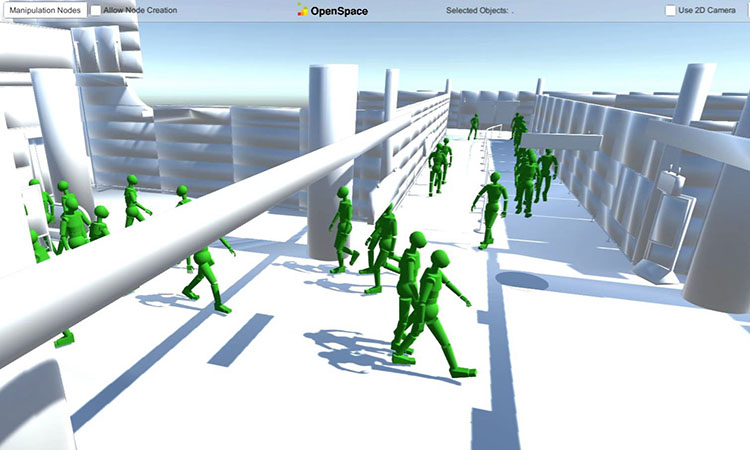 Credit: HS1
HS1 Ltd has announced a three-year contract with OpenSpace Group Ltd to use ground-breaking technology that pin-points and counts every person in St Pancras International and other stations, to improve passenger flows and experience on the railway.
The technology will allow HS1 Ltd staff to see, in real-time, a visual representation of where all people are in HS1 stations at any given time. The benefits of the technology are clear, by being able to see where all people are in the station, staff will be better able to deal with bottlenecks or potential safety issues caused by overcrowding.
From an accessibility point of view, the technology will help staff move customers requiring assistance through the station more easily. HS1 Ltd will also be able to analyse particularly busy periods or times of disruption to improve future station management responses. The ability of the technology to simulate 'what-if' scenarios will also allow HS1 Ltd to plan and prepare for significant events that may affect passenger movements including maintenance, or busy one-off events such as the Platinum Jubilee weekend.
"Being able to provide our operational team with the data they need to ensure customers receive the best station experience is a clear objective of HS1 Ltd," Jay Newton, Head of Stations, Engineering, and Operations for HS1 Ltd, said. "Through this technology, we'll be able to deliver on that, once again showcasing HS1 Ltd's innovative streak within the rail sector as it pushes to improve passenger benefits at all points of their journey."
"We are excited to be cooperating with HS1 and Network Rail in these important steps along their ambitious digitisation roadmap," Nicolas LeGlatin, CEO of OpenSpace Group, said. "Whilst COVID-19 isn't the only driver for this project, it has brought operators a deep sense and recognition of the importance of the movement of people which will accelerate the adoption and enhancement of solutions like OpenSpace."
The technology will be used at HS1 Ltd's stations. The contract to deploy 'OpenSpace' was signed with OpenSpace Group and Network Rail High Speed managing St Pancras and other HS1 stations. The technology will ensure, from a privacy perspective, that people recorded by the system will be represented by a generic figure, with the technology not capturing imagery of people's faces.
The technology represents a key moment in developing greater digital solutions to improve customer experience in train stations. This aligns with GBR's 'customer-first' vision for the future of the railways, putting the passenger at the heart of future innovation in the sector.
An image featuring the station monitoring technology can be found below.