Canary Wharf Crossrail station works completed ahead of schedule
Canary Wharf Group plc has completed construction of Canary Wharf Crossrail station's platform level…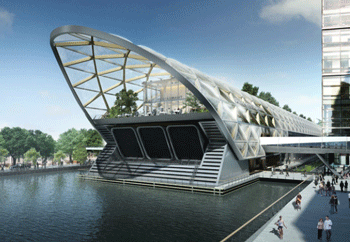 Canary Wharf Group plc has completed construction of Canary Wharf Crossrail station's platform level five months ahead of schedule, making it ready to receive the two giant eastern tunnel boring machines in 2013.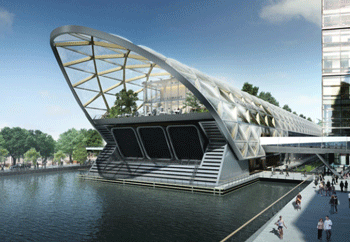 Construction of the Crossrail project began at North Dock in Canary Wharf less than three years ago. Since then the construction team has driven over 1,000 piles and pumped nearly 100 million litres of dock water – the equivalent to 40 Olympic swimming pools. Approximately 300,000 tonnes of material has been excavated from beneath the dock bed and almost 375,000 tonnes of concrete poured.
Canary Wharf Contractors Limited, the construction arm of Canary Wharf Group, has created a station box that is more than 250m long and 30m wide, approximately the same size as One Canada Square laid on its side, Britain's tallest operational building. Twenty-eight metres below the surface of the dock, twin 7.6m diameter rings are now in place at both ends of the station ready to receive the eastern tunnel boring machines.
Cliff Bryant, Executive Director of Canary Wharf Contractors Limited, said: "We are very proud to have played our part in a project which will benefit London for many generations to come. Credit must be given to our workforce and supply chain, many of them local East Londoners, who have responded to a very challenging brief and delivered it to Crossrail ahead of time and within budget."
Bill Tucker, Crossrail Area Director Central said: "Construction of Crossrail's first excavated platform level is now complete and has been delivered five months early by Canary Wharf Group. Preparations will now begin for the arrival of the tunnel boring machines next year. When the tunnelling machines breakthrough into the station box from the east they will undergo maintenance before being moved to the other end of the station box where they will then set off on their journey en route to Farringdon via Whitechapel and Liverpool Street stations."
Construction of the Canary Wharf Crossrail station box generated approximately 200,000 cubic metres of excavated material. About a quarter of this was reused on site and the rest was reused at regeneration areas including Pitsea and Hoo Island to create habitats for flora and fauna. The majority of the excavated material was removed by barges rather than lorries, saving more than 29,000 lorry trips and reducing carbon dioxide emissions by 780 tonnes.
Crossrail's eastern tunnelling contractor Dragados Sisk JV will shortly commence enabling works to receive the two tunnel boring machines that will be launched from Limmo Peninsula later this year.
After the TBMs pass through, Canary Wharf Group will fit out the station with work due to complete in 2015. Work will continue to construct the levels sitting directly above the station box.
Canary Wharf Crossrail station will be one of the largest stations on the Crossrail route. Crossrail will dramatically increase the capacity and resilience of transport services to and from Canary Wharf and the surrounding area, helping underpin further development and investment in this key business and shopping district.
Journey times will be cut to many destinations across London. It will take just 6 minutes to travel to Liverpool Street, 8 minutes to Farringdon and 39 minutes to Heathrow. The Crossrail service at Canary Wharf will be 12 trains per hour in each direction during the peak. Crossrail services will commence in 2018.
Canary Wharf Group has planning permission for four levels or 100,000 square feet of retail, topped by a spectacular roof top garden, community facility and restaurant semi-covered by a spectacular timber lattice