Translink Northern Ireland choses Parkeon hand-held technology
Following a competitive tender, Parkeon Transit has won a contract with Translink…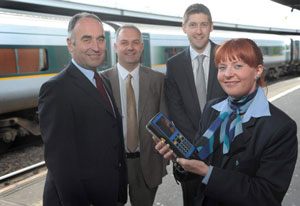 Translink's Mal McGreevy, General Manager, Rail; William McGookin, Ticketing Systems Manager and Nicola Hall, Senior Customer Services Coordinator; with Ian Pickering (second from right), Parkeon's UK Service Manager
Following a competitive tender, Parkeon Transit has won a contract with Translink to supply 275 of its advanced Parkeon P50 hand-held ticket machines for use on train services.
The new units will be rolled out in 2013 and will not only offer cash and contactless smart card transactions but will also handle payment by chip and PIN credit/debit card and contactless EMV.
Mal McGreevy, Translink's General Manager, Rail Services said "Translink have been pioneers in innovative smart ticketing technology with customer smartcards electronically accepted on-train since 2002. These new P50 ticket machines will make it easy and convenient for our customers to purchase tickets on board with their credit and debit cards including EMV Contactless transactions."
Ian Howard, Parkeon's Business Development Director, comments: "This new generation of hand-held technology takes ticketing functionality to a new level, offering Translink customers an extensive range of transaction options while fulfilling the rigorous security and reconciliation standards set by the operator. We are looking forward to continuing our long standing business relationship with Translink, having supplied the hand-held technology that has been in operation since 2002."
In addition to the supplying the ticketing units, Parkeon will also be providing a comprehensive maintenance and support package.
Related organisations
Related people