Network Rail to trial air purifying devices at Birmingham New Street
Network Rail are to trial pioneering new purification devices at Birmingham New Street to see how much they improve the air quality for passengers.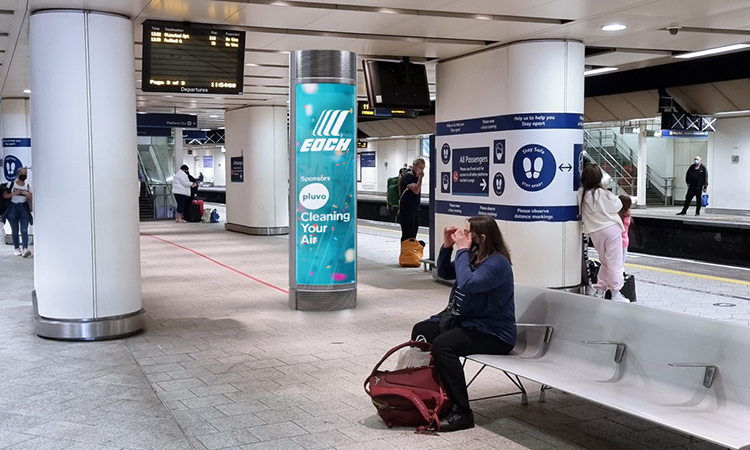 Credit: Network Rail
Pioneering new devices will be trialled at Birmingham New Street station to see how much they improve air quality for passengers on platforms. Network Rail will install two upright 'totems' to filter pollutants and viruses from the air on platforms 10 and 11.
The purification systems work by taking in air at the bottom before it's passed through a series of filters with clean air then released at head height. It's hoped this will make platforms more pleasant for passengers by reducing the impact from train exhaust fumes. A recent trial of similar units saw promising improvements on a busy street in London. It's hoped the trials will complement the major multi-million-pound investment into the station's overhead ventilation system four years ago. Birmingham New Street uses the latest technology to optimise its ventilation system to remove diesel pollutants from trains. More than 100 sensors and 98 jet fans have been upgraded since 2018 in a £1m investment, leading to reductions of nitrous oxide of up to 45%.
"We want Birmingham New Street to be a pleasant environment for passengers and we've invested millions of pounds over the years to try to improve the air quality," Patrick Power, Network Rail Central Route Head of Stations, said. "As one of the busiest stations in the country, with diesel and electric trains coming or going every 37 seconds on average, we know the air quality at platform level could be better. These new units show real promise to tackle that and if successful we'd look to roll them out right across the station in future."
The central sections of the units will feature large visual displays which will show passengers how they work and what else Network Rail is doing to provide a cleaner and greener railway.
If the trial on platforms 10 and 11 is successful, the plan is to install more of the devices along other platforms at the station in the future.