DB and ÖBB expand cross-border traffic with new Nightjets
Deutsche Bahn and the Austrian Federal Railways are expanding their cross-border long-distance services with new connections in day and night traffic as well as the use of new vehicles.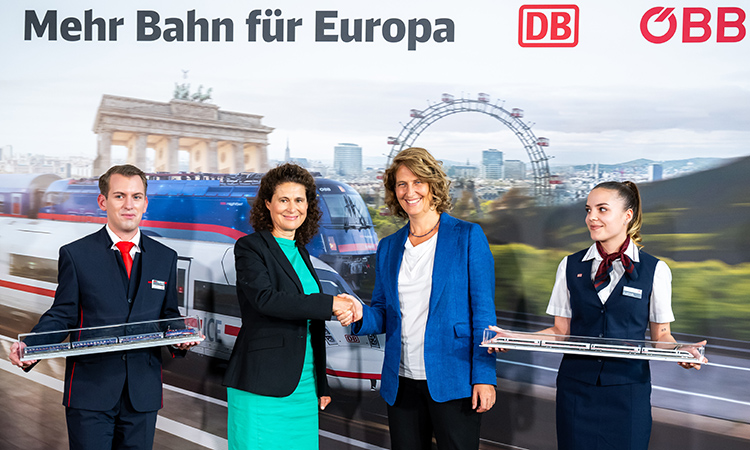 Credit: DB
Deutsche Bahn (DB) and the Austrian Federal Railways (ÖBB) are continuing to expand their cross-border long-distance services between neighbouring countries. The two companies expect around 40% more passengers than five years ago.
"The trend towards rail is unbroken," Stefanie Berk, Director of Marketing and Sales at DB Long-Distance Transport, said. "More and more people in Germany and Austria are relying on the climate-friendly train to travel to their neighbouring country. We want to further stimulate growth with new trains, more comfort and more connections. This can only be achieved through a joint effort by the railway companies involved. The expansion of the international timetable in close collaboration with ÖBB is our answer to growing demand."
"We want to double the number of passengers on Nightjet transport by 2030," Dr. Sabine Stock, ÖBB board member for passenger transport, said. "Deutsche Bahn plays an important role here, as many Nightjet lines start and end in Germany. The new connections from Berlin to Paris and Brussels and the use of the 'new generation Nightjet' in Germany are strong signs that DB and ÖBB believe in the night train product and will provide more services."
From December, there will be another ICE connection between Berlin and Vienna via Nuremberg. By extending the route to Hamburg, the Elbe metropolis will also receive another daily connection to the Austrian capital. From December onwards, DB and ÖBB will also be offering the ICE journey from Berlin via Frankfurt/Main and Stuttgart to Innsbruck and back every day instead of only on weekends.
ÖBB and DB are also investing more heavily in new trains. From the timetable change, ICE 4 will be used on the Frankfurt/Main-Munich-Salzburg-Klagenfurt route and will ensure more comfort and reliability in long-distance transport. The new generation of Railjets, which will gradually operate on the route between Munich and Italy from April 2024, also offer more quality and seats. The brand new and ultra-modern trains offer ICE-level comfort.
ÖBB and DB are also expanding their cooperation in night traffic. From December, the two companies will be offering Nightjet connections from Berlin and Vienna to Paris and Brussels. These connections will initially run three times a week, then daily from autumn 2024. This doubles the number of Nightjet connections for Berlin.
The completely new ÖBB Nightjet trains will be in use for the first time from the turn of 2023/24. They will initially be used on the Hamburg-Vienna and Hamburg-Innsbruck connections. These newly developed Nightjets with speeds of up to 230km/h offer a new level of comfort, including through individual cabins (mini cabins) in the couchette car and level entry for people with limited mobility. Further connections in Austria, Germany and Italy will follow in the course of 2024.