Siemens to equip Matterhorn- Gotthard Bahn with additional control and safety equipment
Siemens has received the order from Matterhorn Gotthard Bahn…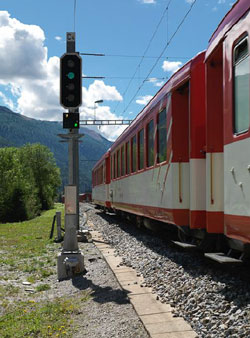 Siemens will install the latest control and safety equipment for Matterhorn-Gotthard Bahn (MG Bahn).
As part of the interlocking replacement work on the route between Brig and Ulrichen, Switzerland, Siemens has received the order from Matterhorn Gotthard Bahn (MG Bahn) to install the latest control and safety equipment between Mörel and Münster (Upper Valais) and Andermatt and Disentis (Oberalp Pass). The third stage of interlocking expansion work includes the installation of nine Simis IS-type interlockings, eight LCM200 level crossings and the Iltis operations control system (Integrated Control and Information System). Commissioning is scheduled for autumn 2014.
MG Bahn is replacing its ASEGA interlocking systems, which have reached the end of their lifecycles, with new electronic interlockings. In addition, the upgrade will see the existing operations control technology, Command 900, replaced with the modern Iltis operations control system and the current Iltis 40 release migrated to the 56 version. Replacement of the existing ASEGA station level crossings with LCM 200-type level crossings, which have been specially designed for integration with Simis IS interlockings, eliminates the need for complex interfaces between the level crossing control system and the interlockings because these are already extensively integrated into the interlocking hardware and software.
Besides modernization of interlockings on the routes mentioned above, another focus of the contract is the installation of Iltis over a wider area. This operations control system from Siemens is already used across the entire Swiss rail network and forms the operator level for rail automation: namely, by using PC workstations with full-graphics interfaces, users are able to control all rail operations safely and efficiently to and automate standard operator actions.
This award of this order now closes the Iltis gap between Brig and Ulrichen. The first step of the project in 2006 saw the modernization of systems in Visp and Täsch. This was followed by upgrades in Göschenen and Brig in 2008 and by conversions in Ulrichen, Oberwald, Geren, Rotondo, Realp und Hospental in 2010.