Stansted Airport launches manifesto calling for better and faster rail links
Stansted Airport launched its rail vision which outlines that new faster and reliable rail links…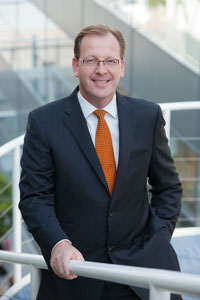 Stansted Airport's Managing Director, Nick Barton
Stansted Airport has today (Nov 23) launched its rail vision which outlines that new faster and reliable rail links could help attract at least an extra 1.4 million passengers a year to use the airport*.
The vision was unveiled to 150 top transport leaders, local authorities, airport representatives and key stakeholders attending Stansted's annual Transport Forum at the Radisson Blu Hotel. The vision's goals include:
A 30 minutes rail journey time from London to the airport – "Stansted in 30"
Extending Crossrail to Stansted
Long term vision for Stansted to be the best connected air-rail hub in the UK
Improvements to services for our passengers and the local community
In his speech to delegates, Managing Director, Nick Barton, said:
"We have the spare capacity and infrastructure in place to support 35 million passengers a year and with faster rail links we can attract the airlines whose passengers value quick and reliable links to London. That's why we launched our new rail campaign – Stansted in 30 – to persuade Government and the rail industry to commit to reducing journey times from London to Stansted to around 30 minutes.
"Stansted is proud to be the leading major UK airport for public transport use, with now 50% of passengers using train, bus and coach to travel to and from Stansted. But we want to build on this success, so that is why we also want to see more frequent trains to Cambridge, East Anglia and beyond opening up the airport to new communities. We believe there is a strong case to link the airport to high speed rail and support the proposals to extend Crossrail to Stansted.
"The East of England has suffered for too long from the effects of under-investment in the rail network and these improvements would have a significant impact on the local economy, jobs and long term growth. Our vision is for Stansted to be the best connected air-rail hub in the UK, delivering fast, frequent and more reliable services for our passengers and the local community. The case is clear for investing in the railway to Stansted."
Ruud Haket, Managing Director of Greater Anglia, speaking at the event also called for improvements to the rail access to Stansted. He said:
"At Greater Anglia, we are committed to working with regional stakeholders to help secure greater investment in rail services on the West Anglia route to Stansted Airport. Passengers are already seeing the benefits of high quality new trains on airport services, but to achieve future aspirations such as quicker journey times, more capacity on the route and more late night and early morning trains, will require significant investment in additional infrastructure.
"We have already worked to raise the profile of future regional rail developments by playing a pivotal role in the creation of the Rail Prospectus for East Anglia and the stakeholder alliance to promote the schemes it proposes. It is clear that a coordinated, sustained approach, clearly evidencing the regional, economic and business benefits of rail service upgrades, will give us the best chance of gaining the funding needed to achieve some of the enhancements sought by both air travellers and daily commuters.
"We look forward to working with Stansted Airport, Network Rail and other stakeholders to further improve rail services to the airport in the years to come."
*Research undertaken for Stansted Airport shows that reducing journey times from London to Stansted could lead to at least an extra 1.4 million passengers using Stansted every year.
Related organisations
Related people