The first half of the new concourse at Birmingham New Street station will open on 28 April 2013
The switchover will see the first major changes at New Street in over 40 years…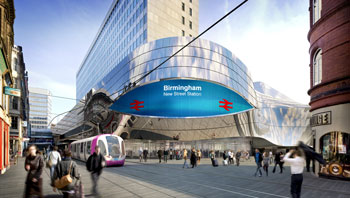 CGI of the new entrance to New Street station, Birmingham
The switchover will see the first major changes at New Street in over 40 years and marks a major milestone in the redevelopment of the station which started in 2010.
When the new concourse and new entrances open to passengers, the old station and all its existing entrances will close to allow rebuilding work to continue on this side of the station. The station remains open throughout the work and so far Network Rail have been able to do most of our work behind the scenes.
Unveiling the new concourse
The half time switchover on Sunday 28 April 2013 will be the first time people see real changes in how they use, and access New Street station. By switching off the old station and opening the first half of the new concourse next door, Network Rail can keep passengers moving through the station while we continue rebuilding the existing half of the station and shopping centre above.
The improvements
When the first half of the new concourse opens, it will be one and a half times bigger than the old concourse and have all of the facilities expected in a major station, with a new, bigger and improved ticket office, plus new escalators and lifts improving access to platforms. Other major changes include:
The existing vehicle and pedestrian entrance outside the front of the station on Smallbrook Queensway will close, with vehicle access moving across to a new drop off area and short stay car park located off Hill Street
Passengers travelling from Moor Street station and pedestrians on Smallbrook Queensway will be able to access the new concourse via the new Moor Street link pedestrian walkway which links the east side of the station to the new entrance on Stephenson Street
People can still access the station from Pallasades and Bullring through a new set of escalators which link the shopping centre above down to the new concourse
The Victoria Square entrance on Navigation Street will close as new entrances will open onto Stephenson Street and Hill Street
The station taxi rank will temporarily move to Navigation Street
Read more about Birmingham New Street redevelopment.