Official re-opening of railway line between Derry~Londonderry and Coleraine
Translink officially re-opened the railway line between Derry~Londonderry and Coleraine…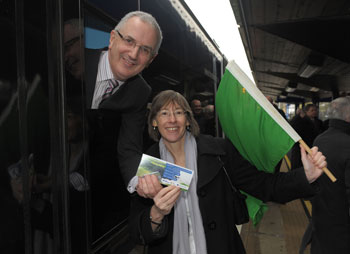 Minister for Regional Development Danny Kennedy MLA and Translink Group Chief Executive Catherine Mason officially re-open the railway line between Derry~Londonderry and Coleraine.
Translink officially re-opened the railway line between Derry~Londonderry and Coleraine ahead of schedule today (Friday 22nd March 2013) following almost eight months of closure to complete essential safety and engineering work.
To mark the occasion, a special train departed Belfast this morning and made the inaugural passenger journey to Derry~Londonderry picking-up civic dignitaries and community representatives along the route before a special re–opening ceremony took place in the city's Millennium Forum.
The re-opening marks the completion of the first phase of the Renewals Project at a cost of over £30m which involved major engineering track safety and improvement works*. Speaking at the ceremony, Translink Group Chief Executive, Catherine Mason, said:
"This project will secure the long term future and sustainability of the Northern corridor rail link which provides vital connections to jobs, colleges, universities, shops, businesses and local attractions.
"Its revival will help strengthen the economic landscape in the North West and will also mean that the train is an attractive way to reach the UK City of Culture to join the celebrations planned for the months ahead. Translink is proud to be the official transport partner of the City of Culture.
"We have worked hard to complete this work ahead of schedule and before the busy Easter break. We want to celebrate the achievements of everyone involved in delivering the project and thank all our customers for their patience and support as we worked hard to improve local rail services.
"We hope many of them will enjoy the special free train service and family entertainment taking place this weekend which will give hundreds of people the opportunity to experience this beautiful journey. We would also like to thank the Minister for Regional Development, his Department and the Trans European Transport Network Fund for essential funding to complete the work.
"The popularity of rail travel in Northern Ireland continues to grow with over 80% growth in passenger numbers in the last 10 years and we are on target to exceed a record-breaking 11 million journeys this year.
"Investment in trains and service developments have delivered a step change in punctuality and reliability performance as well as ensuring customer satisfaction remains at a very high level.
"Looking ahead, we are focussed on giving our customers attractive, reliable and good value services to keep them coming back onto Londonderry Railway Line services. We have launched a 'Try the Train' campaign to help grow passenger numbers by encouraging those who live along the line to use it," said Catherine**.
The completed work has received high-profile interest and words of congratulation from travel writers and broadcasters Michael Palin and Michael Portillo who both previously completed the journey and remarked on its significance and beauty***.
A new North West train timetable will commence on Sunday 24th March 2013. Exclusive commemorative train tickets will be presented to the first 500 passengers travelling on timetabled services between Derry~Londonderry and Coleraine on this date. For further timetable information click www.translink.co.uk or call 028 90 66 66 30.
References
– * Renewals Project Phase 2 will commence in 2014 subject to funding. It will comprise a passing loop and new signalling which will allow the running of an hourly train service between Derry~Londonderry and Belfast from 2015.
– **Over 85,000 households situated close to the railway line between Ballymena and Derry~Londonderry will receive a new North West Train Timetable along with a 50% off day return ticket voucher to 'Try the Train'. Timetables will also be available from main Translink stations and online at www.translink.co.uk.
– ***Speaking about the completed work, Michael Palin said: "Delighted to hear about the reopening of the railway line between Coleraine and the city of Derry~Londonderry. Good sense has prevailed; I'm sure it will be of great benefit to local people and also tourists visiting this particularly beautiful part of Northern Ireland."
Michael Portillo said: "It's great news that the Coleraine to Derry-Londonderry line has been improved. As I was able to see for myself it is one of the most beautiful rail journeys in these islands, and now regular travellers and tourists can look forward to a smoother ride and better schedules. I wish I could be there to enjoy that lovely scenery again on the inaugural run."
– The railway line was due to re-open in April 2013.
– Local contractors McLaughlin and Harvey and McCann BAM Rail JV completed the safety and improvement work which involved substantial bridge work, re-railing and rehabilitation of ballast and track renewal at the two end sections of the line.
– McLaughlin and Harvey Ltd are based in Mallusk. McCannBam Rail JV (joint venture) comprised of FP McCann based in Magherafelt and Dutch supplier BAM.
– A massive 5600 tonnes of new rail was used and around 115,000 tonnes of ballast. The unique 11 span lifting bridge over the Bann in Coleraine was completely refurbished and the two span Pottagh Bridge was replaced.
– The environmental impact of the project was minimal. Old rail was recycled, spent ballast was used to build up track-sides, as drainage backfills and cess walkways, reducing demand for virgin aggregate and decreasing road haulage miles. The project was also managed in line with CEEQual environmental standards and practices.
– As well as securing the future of the rail link for 30 plus years, other key project benefits include: maintaining high safety standards and line reliability, improving drainage and a reduction in future maintenance
– New North West Train Timetable (starts March 24): Translink believes it will be the first time in the history of the railway in Northern Ireland that a train service will arrive into Derry~Londonderry from Belfast before 8.30am.
– Translink is the official Public Transport Partner of the UK City of Culture 2013 Derry~Londonderry.
Related organisations
Related people