A better station for Reading
The first part of an 11-day programme to upgrade Reading station is complete. The station now has two new entrances…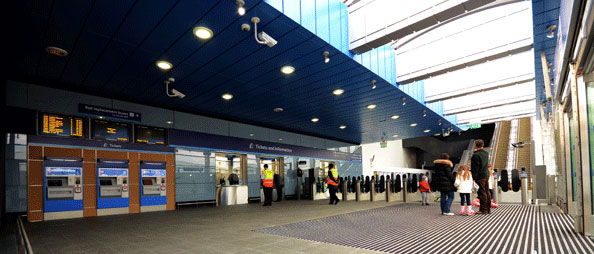 New northern entrance at Reading station
The first part of an 11-day programme to upgrade Reading station is complete.
More than 2,000 of our engineers and contractors worked round the clock from late in the evening of 28 March 2013 through to the early hours of the morning of 2 April 2013 to carry out work which would ordinarily have taken around 20 full weekends.
More space, improved access
The station now has two new entrances, a new 110-metre long, 30-metre-wide passenger bridge, with escalators and lifts providing step-free access to the four new platforms which were ready to receive the first train arriving at 04:40.
Reading station is used by 14m passengers each year, with numbers predicted to more than double to 30m by 2030. Station users now have more space, easier access to platforms, and new passenger information screens.
The new platforms have two sections, A and B, so that trains of varying lengths can occupy different ends of the platform at the same time, to improve efficiency and timings. Each platform now has escalator and step-free access to the new footbridge, with the existing platforms due to follow suit by 8 April 2013.
Unblocking the bottleneck
Over the coming months, we'll upgrade more platforms, with the station elements of the project due for final completion by February 2014. The programme as a whole will upgrade the station and unblock the bottleneck on the railway serving it – so trains won't need to queue while approaching the station. All work is scheduled to be completed by 2015, a year ahead of schedule.
Read more about what Network Rail are doing to improve the railway at Reading.