Major contract for Vogelsang in the railway sector
New rail depot in Finland to be equipped with a water supply and disposal system…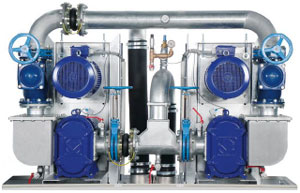 The Vogelsang double pump station is the centerpiece of the whole supply and disposal system. Image Source: Vogelsang
Hugo Vogelsang Maschinenbau GmbH, market leader in disposal systems for railway vehicles and a specialist provider for pump, shredding, distribution and spreading technology for agricultural, industrial and municipal applications, has been awarded the contract to equip a new Finnish rail depot. The company will supply a complete system for waste water disposal and fresh water supply in passenger trains. "We have already extensively equipped depots of a similar size in Ireland and Austria, so the project in Finland is a further milestone for our rail division", said managing director Harald Vogelsang about the latest contract.
VR Group, the Finnish railway company, is building a 17,000 m² rail depot in Oulu. The 50 million euro project comprises a hall, 334 meters in length, with space for up to four trains and a maintenance facility for a further nine carriages. Vogelsang will equip the halls with a complete package for draining trains' waste-holding tanks and for filling their fresh water tanks. The rail depot is expected to enter operation on December 16, 2013.
All-round equipment for supply and disposal in passenger trains
The centerpiece of the whole supply and disposal system is the Vogelsang double pump station VX186-184Q-22kW. The station, which is equipped with two rotary lobe pumps, generates the suction used in the vacuum extraction of the waste water tank. Other features include 60 underfloor extraction systems equipped with automatic hose reels and 32 fresh water filling reels. "As the sole supplier of space-saving underfloor service modules, we were able to meet the requirements of the Finnish railway company VR and offer a suitable system for the 1.10 meter high space underneath the hall floor", Harald Vogelsang added. "Furthermore, our central supply and disposal system operates cleanly and efficiently."
In Germany, Deutsche Bahn and many private railway companies already use this vacuum disposal technology in their train stations and depots. Further customers include a wide range of foreign railway companies such as Irish Rail or Austria's ÖBB.