Vossloh Kiepe UK to deliver traction upgrade to South West Trains' class 455 fleet
"This is a cutting edge technology that can transform older units into modern trains…"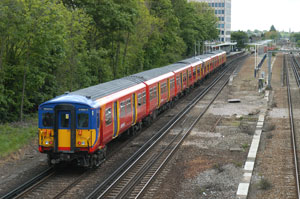 South West Trains' Class 455 trains will be one of the first EMU fleets in the UK to benefit from a state of the art upgrade featuring regenerative braking, as Vossloh Kiepe UK begins a £40m programme to fit 91 units with its advanced energy-saving traction equipment for Porterbrook Leasing Company.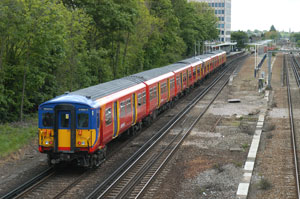 The rail technology and engineering firm formerly known as Transys Projects Ltd, will be responsible for the design and integration engineering of the integrated solid state propulsion system, which will be supplied by its German parent company, Vossloh Kiepe GmbH.
Promising minimum disruption, a tightly controlled schedule, reduced maintenance costs and energy savings, Vossloh Kiepe UK's environmental and commercial business cases for the installation of the 'IGBT' traction equipment have been well proven in European and world applications. Delivering an economical solution to increasing passenger demand, the cost for leasing and maintaining this fleet will be substantially lower than investing in new trains.
"This is a cutting edge technology that can transform older units into modern trains which meet today's most pressing business needs – reduced running costs and better use of energy," explained Vossloh Kiepe UK's managing director Graham Roberts. "The new 3 phase AC solid state traction equipment is designed to reduce the number of moving parts, meaning there is less to maintain, service or replace.
"But the element that is really exciting the UK industry is the regenerative braking facility provided by the Vossloh Kiepe traction system, using the traction motors as generators in the braking mode. The electrical energy generated is fed back in the traction power supply, which is offset against the electrical demands of other trains on the network at that instant.
"Tests show that it can reduce energy consumption by more than 10 per cent, and up to 30 per cent, depending on conditions, which in a climate of rising energy prices could have a massive impact on the long-term viability of these trains."
Vossloh Kiepe UK's engineers have developed a system for the 455 Class units that will blend this electrical or dynamic brake with the conventional friction braking system on the train. Project manager Paul Sanders explained: "We are arranging to blend the friction brake on the four cars in the unit to the electric brake on the motor car to maximise the savings to be had.
"The obvious advantage of this system is to put back electricity into the traction power supply for use by other trains on the network, to reduce operating energy costs and as a by-product the reduction in use of the friction brake will reduce brake pad and wheel disc wear, providing a further cost saving which will again reduce maintenance costs."
The benefits of reducing running costs will be threefold. The un-sprung mass of the revised trains will be lighter, reducing the amount of wear and tear on the rail infrastructure, while the reduced servicing requirement will increase the mileage that can be carried out by each unit between major maintenance works from 10,000 to 15,000 miles, keeping trains in service for longer. As a result, space will be freed up at Wimbledon depot, enabling South West Trains to look at future capacity developments.
Christian Roth, Fleet Director for the South West Trains – Network Rail Alliance said: "We are looking forward to the implementation of the new traction equipment to our class 455 fleet by Vossloh Kiepe UK, with minimal impact to our passenger services. This is a major engineering step to improve the reliability of these trains even further at the same time as delivering environmental benefits through the reduced electricity supply."
Vastly experienced in managing complex refurbishments on entire fleets, Vossloh Kiepe UK has a highly efficient and controlled design package and site management plan which will ensure that only two units will be out of service at any one time and installation will take only six days to complete once production is in full flow.
Sanders added: "This limited time out of service is of great importance to South West Trains and was one of the reasons Vossloh Kiepe UK was given the contract. We will manage the programme from our head office in Birmingham, while our manager in Germany will oversee the traction design at our manufacturing facilities in Dusseldorf."
Starting work at the Wimbledon depot in January 2014, the first modified Class 455 unit should be completed ready for testing at the end of May 2014 and in service by November 2014. It is anticipated that the remaining 90 units will be modified at the Eastleigh depot.
The scale of this contract will create new opportunities for engineers and installation personnel. "As the project progresses through each of the development stages, we believe opportunities will arise for designers and technicians to join our project team, and the modification of the rail vehicles will also generate additional work for the railway maintenance facilities in Eastleigh," commented Roberts.
"It's clear that this technology will be highly attractive to a number of train operators and leasing companies, and Porterbrook is currently looking at the possibility of undertaking similar re-tractioning work on its 86 class 319 units. We also reported last year that we were undertaking a feasibility study for Eversholt Rail Group on the traction replacement for its Class 321 electric multiple units.
"In fact, there are several fleets in the UK that could benefit from this technology, and as we move towards the electrification of the main-line railway in the UK, there is huge potential for this technology."
Related organisations
Related people