Growth boost for HS2 as taskforce membership confirmed
A skilled team, including Sir Howard Bernstein and Sir Albert Bore, are joining the HS2 Growth Taskforce…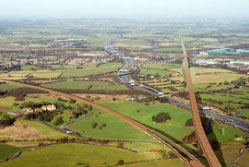 A skilled team, including Sir Howard Bernstein and Sir Albert Bore, are joining the HS2 Growth Taskforce.
Senior figures from business, academia and local government have joined the HS2 Growth Taskforce, Transport Secretary Patrick McLoughlin announced today (31 July 2013).
The independent expert group was set up last month to maximise the economic benefits – including job creation – generated by the flagship rail project and is chaired by Commercial Secretary and former LOCOG boss Lord Deighton.
The government believes HS2 will be a key driver of jobs and growth. Independent analysis commissioned by Greengauge 21 predicts that HS2 is capable of generating up to 22,000 jobs in the next 5 years, rising to a maximum of 50,000 jobs by the late 2020s. The government sees the taskforce as crucial in unlocking this potential.
The HS2 Growth Taskforce will comprise:
Lord Deighton, Commercial Secretary to the Treasury (chair)
Sir Howard Bernstein, CEO Manchester City Council (deputy)
Sir Albert Bore, Leader Birmingham City Council
Sir John Rose, Deputy Chairman Rothschild Group
Frances O'Grady, General Secretary of TUC
Neale Coleman, Mayor of London's Adviser on Olympic Legacy
Prof Tony Venables, Oxford University
Alison Nimmo, CEO Crown Estate
Pete Waterman, Cheshire and Warrington LEP
Cllr Julie Dore, Leader Sheffield City Council
Cllr Matthew Colledge, Leader of Trafford Council
Lorraine Baldry, Chair of London and Continental Railways
Commercial Secretary to the Treasury Lord Deighton said:
"HS2 presents a massive opportunity to boost growth in regions across the UK and it's vital that we talk to business leaders, public sector organisations, local government and the public about how we maximise the benefit to the whole of the country.
"I am delighted to have such a skilled team working with me on the HS2 taskforce. They know the huge benefits large scale infrastructure projects can bring if they are done in the right way.
"I am confident that together we have the right blend of experience and expertise to make sure HS2 delivers its full potential in terms of jobs and growth."
Transport Secretary Patrick McLoughlin said:
"HS2 is about far more than just a new railway, it provides a once in a generation opportunity to drive growth, generate jobs, and secure our country's future prosperity. We have no choice but to address the increasing demands on our transport system that Britain will face in the next decade to be able to compete in the global economic race.
"Lord Deighton has pulled together an incredibly impressive group of people for this taskforce, all highly respected experts in their field. Their skills and experience will help ensure that we squeeze every possible benefit from this vital project.
"Building on the success of HS1 and its role in the transformation of Kings Cross, HS2 will act as catalyst to city centre regeneration and major development schemes. HS2 is a huge project and I am determined to get maximum payback from the investment."
HS2 Ltd Commercial Director Beth West said:
"We welcome the appointment of the members of the HS2 Growth Taskforce. We look forward to hearing their thoughts and value their expertise to help us deliver the maximum payback from the investment in HS2.
"Their collective knowledge will further strengthen our ability to make HS2 a catalyst for Britain's future prosperity, supporting economic growth and assisting towns and cities to deliver regeneration, skills and jobs"."
The taskforce will seek to learn from and build on the success of Crossrail's supply chain, where billions of pounds of contracts have been awarded across the UK from Falmouth to Inverness. Looking at British and international experiences of driving growth from major infrastructure investments, the taskforce will set out options and make recommendations on:
maximising regional and national growth opportunities
getting British industry and the UK workforce ready to respond to the vast array of opportunities HS2 will provide – 70% of jobs created by HS2 are expected to be outside London
ensuring HS2 delivers as a catalyst for economic growth and regeneration around the stations and surrounding communities
ensuring job opportunities from HS2 can be maximised and advising what contribution HS2 can make to the skills and training agenda
maximising the potential to use the buying power of HS2 to improve supply chains and manufacturing capacity across the UK.
It will also engage heavily with the core cities and local enterprise partnerships to ensure the benefits of HS2 are felt far beyond the station cities.
The HS2 Growth Taskforce will publish an interim report later this year and will submit its final report to government early next year. This will then drive forward a programme of work with the core cities to ensure that the vast array of economic opportunities presented by HS2 are maximised.
Related topics
Related organisations
Related people