Safeguarding the nation's railway signalling heritage
Twenty six of England's rarest and best preserved signal boxes have been given Grade II listed status…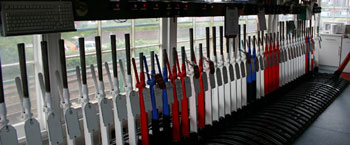 Bury St Edmunds signal box Suffolk
Twenty six of England's rarest and best preserved signal boxes have been given Grade II listed status by the Department for Culture Media and Sport as a result of a joint English Heritage and Network Rail project.
The listings come as we decommission many mechanical signal boxes to consolidate signalling into 12 regional centres as part of a 30 year plan to modernise the system and provide a better value railway for Britain.
Installed from the mid-19th century onwards, there were around 10,000 signal boxes at the peak of their use in the 1940s. Today fewer than 500 are still in use.
They were built in highly visible spots at stations or level crossings to an infinite variety of designs, sometimes with beautiful detailing and embellishment far beyond what is needed for their practical function. They were constructed both by specialist contractors like Saxby & Farmer and individual railway companies, each developing their own distinctive style.
English Heritage
Network Rail have worked closely with English Heritage to identify and protect a representative sample of the most significant designs, especially those within groups of historic railway buildings, capturing a snapshot of the Victorian heyday of railways for future generations.
"Our interest in everything to do with trains and railways – and the 'golden age' of steam in particular – is one of our most endearing and enduring national preoccupations. Signal boxes are a big part of this, and so I am very pleased indeed to be able to list these lovely examples of the type. It is greatly to Network Rail's credit that they have worked so constructively with English Heritage to bring this project to such a successful outcome."
Heritage Minister, Ed Vaizey
Operating strategy
Demand for passenger and rail freight services is expected to double over the next 30 years.
Network Rail currently have over 800 operating locations (including around 500 mechanical signal boxes), many with legacy equipment which is becoming difficult and expensive to operate and maintain. This equipment cannot keep up with today's fast paced technology and is limiting the potential of the railway.
Network Rail's strategy sets out our vision to consolidate all signalling and control activity into 12 modern rail operating centres over the next 15-30 years. Instead of controlling just a few miles of railway, as most signal boxes were designed to do, the new centres will control hundreds of miles of railway involving the movement of thousands of trains a day. meaning:
Fewer delays – better technology means normal services can be restored much quicker following disruption
More flexibility and capacity – more reliable performance and better train regulation means more flexibility with train plans and potentially more services
Reduced operating costs – when complete, it will save £250m a year, and a more affordable railway with more passengers will help create a sustainable future for the railway
Network Rail are working with heritage organisations to document the history and way of life association with signal boxes.
More information including a searchable database of all signal boxes.