Crime on Britain's railways falls for ninth successive year
Crime on Britain's railways falls for ninth year but theft of passenger property rises as thieves target mobile technology…

Crime on Britain's railways continued its long term downward trend with a two per cent fall in notifiable offences in 2012/13. However, this year has seen a significant rise in theft of passenger property, up 16%, largely driven by rises in and around London.
This is the ninth successive year that crime has fallen and comes against a background of a vibrant and healthy industry, with rapidly growing passenger numbers and infrastructure.
Whilst the headline rate of crime declines, the targeting of easily saleable high-tech devices, such as smartphones and tablets, and organised pickpocketing activity, has created a rise in theft offences. Since June, BTP has been rolling out Operation Magnum, aimed at combating thefts of personal items, luggage and pickpocketing – with the operation due to be launched publicly later this week.
"2012/13 has been an exceptional year in our history, with the Force playing a crucial role in the success of the 2012 Olympic and Paralympic games," said Chief Constable Andy Trotter.
"At the same time, we have taken care of business as usual and reduced crime for the ninth year in a row. I think that is a very good performance and represents great value for money, particularly in the context of a budget reduction in real terms of 14% since 2008.
"Increases in theft of passenger property, particularly those targeting smartphones and tablets, reflect the growing problem throughout London and the UK.
"We have made great inroads into the problem of cable theft, which has been a major disruption factor on the rail network. This year cable crime was down 47%, building on a 13% reduction last year."
Violent crime showed a small increase in 2012/13, with an additional 201 crimes across the network.
"This is the first increase in violent crime for six years," says Andy Trotter.
"Serious assaults are down almost eight per cent, but there has been an increase of over three per cent in common assault. Racially-aggravated harassment is a significant contribution to the increase in violent crime, which I think reflects a growing intolerance amongst the public of this sort of incident." Within the violent crime category, assaults on rail staff are down five per cent.
Michael Roberts, Chief Executive of the Association of Train Operating Companies, said: "It's good news that the overall crime rate on the railway continues to fall, but the rise in some crimes will be a cause for concern for passengers which is why we will continue to work closely with the police in cracking down on offenders.
"Train companies take the safety and security of their passengers and staff extremely seriously and spend millions of pounds on dedicated security staff, providing funding for the British Transport Police and improving CCTV. We will continue to do all we can to keep customers safe."
Of BTP's 12 crime groups, eight show reductions and four increases: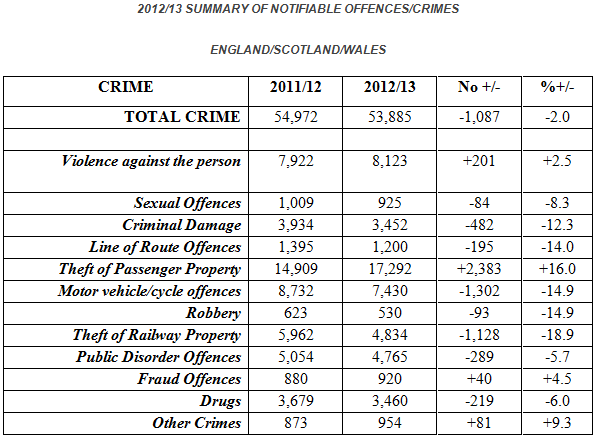 Related organisations
Related people