Network Rail are developing a prototype battery powered train
This work is part of an industry study into the feasibility of using electric trains on parts of the railway which have not been electrified…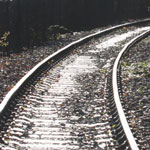 Non-electrified track
This work is part of an industry study into the feasibility of using electric trains on parts of the railway which have not been electrified.
Electric trains are quicker, quieter, and more efficient – making them better for passengers and the environment. The potential to spread those benefits while not having to install miles of wiring would be cost-effective and sustainable.
A battery-powered train could use non-electrified and diesel lines, and recharge their batteries at terminal stations.
Electrification strategy
This project is an important part of our strategy of increasing the electrification of the railway, delivering improved sustainability whilst reducing the burden on the taxpayer. If we can create an energy storage capability for trains, electric traction can be introduced to more parts of the railway without the need to necessarily extend the electrification infrastructure.
Richard Eccles, Network Rail director of network strategy and planning
"As the principle funder and delivery manager, we have done a great deal of feasibility work before reaching this stage, both to define the outputs we seek from the trial and to build confidence in the project across the industry. We are working with our partners to drive this innovation forward."
The test train
Working closely with Derby-based train manufacturer Bombardier and operator Greater Anglia, the project will use one of the operator's Class 379s as a test-bed to determine future battery requirements and what kind of train might be needed.
This train will be adapted by Bombardier and fitted with two different forms of batteries: lithium (iron magnesium) phosphate and hot sodium nickel salt. The batteries will undergo many lab tests before being fitted to the train.
The modified train will then undergo a variety of tests 'off network'. If these tests prove successful, the train will then run on an electrified branch line on the Anglia route, yet to be chosen, with its pantograph down. This is so that if there is a problem, it can raise its pantograph, and collect power again. This running will be both in – and out of – passenger service and by the end of 2014, the trial will be complete.
Partners
The Department for Transport
Enabling Innovation Team (set up to accelerate the uptake of innovation in the rail industry)
Greater Anglia
Bombardier
Related organisations
Related people