Train companies set to make millions out of storm chaos
Greedy private train companies are set to cash in to the tune of millions as a result of cancelled services due to the storm disruption…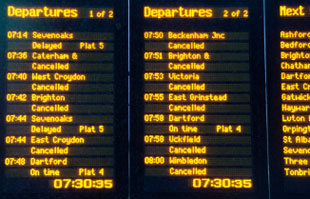 Greedy private train companies are set to cash in to the tune of millions as a result of cancelled services due to the storm disruption in a move which rail union RMT says exposes the rip-off of rail privatisation in all its gory detail.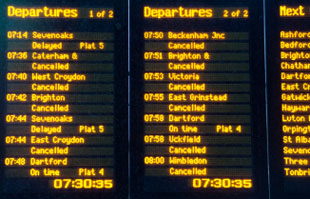 Under "Schedule Eight" payments, the train operators lawyers can claim huge sums of money back from the publicly-owned Network Rail with the taxpayer left to pick up the bill.
The Rail Delivery Group has confirmed that that is exactly what will happen after the disruption to services yesterday which has spilled over into this morning. Effectively it means that trains companies can make more money for not running services and incentivises them to bring the network to a halt. The companies save a fortune by leaving trains in the shed and are compensated at the same level as if they were running them.
RMT general secretary Bob Crow said.
"With services still being disrupted this morning, passengers will be furious to learn that the private rail companies will pick up taxpayer funded subsidies regardless of whether they run trains or not. This really is a one way ticket to the bank for the greedy private operators who simply cannot lose
"Due to the stupid way that privatisation works it suits the train operators down to the ground not to run services and to lay the blame at the door of Network Rail. That way their armies of lawyers can claim compensation back from the publicly owned NWR and leave the taxpayer to pick up the tab. That's the way that the privatisation racket works and the current chaos rams that down passengers throats.
"Money that could have been spent tackling the half billion pound backlog of essential rail drainage works that contributed to the shutdown is instead being ripped off by greedy train companies. While thousands of essential and safety critical rail track jobs have been cut the boardrooms of the TOC's are awash with spare cash that is being bled out of exactly the sort of capacity and maintenance works that could have mitigated against the impact of today's weather.
"RMT is in no doubt that the train operators are happy to exploit this chaos as the system allows them to get paid for doing nothing. The whole situation stinks and reinforces the case for public ownership. "