Prime Minister and Mayor of London visit Crossrail as project reaches halfway point
Prime Minister David Cameron, Mayor of London Boris Johnson and Crossrail Minister Stephen Hammond viewed progress at Crossrail's Tottenham Court Road site…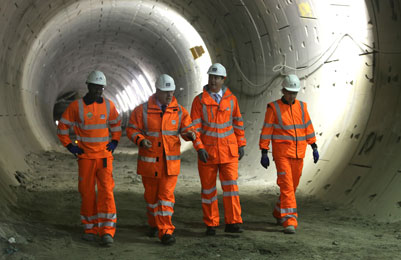 Prime Minister David Cameron, Mayor of London Boris Johnson and Crossrail Minister Stephen Hammond visiting Crossrail's Tottenham Court Road site
Less than five years after works began on Crossrail, Europe's largest infrastructure project today reached the halfway point of its construction.
Prime Minister David Cameron, Mayor of London Boris Johnson and Crossrail Minister Stephen Hammond marked the occasion by visiting the £14.8 billion project, going 25 metres below ground to view progress at Crossrail's Tottenham Court Road site. The station will be a key interchange with London Underground when trains run through central London from 2018.
They were joined by apprentices and commuters who will benefit from the new east-west railway, along with Crossrail Chairman Terry Morgan CBE, Crossrail Chief Executive Andrew Wolstenholme OBE and Transport Commissioner Sir Peter Hendy CBE.
Prime Minister David Cameron said: "Big infrastructure projects like Crossrail are vital for the economy of London and the rest of Britain. They are the foundation-stone on which business can grow, compete and support jobs – a massive 55,000 jobs in the construction phase of this project alone.
London's population is set to grow from 8.4 million today to around 10 million by 2030. Government, the Mayor of London and Transport for London are investing in Crossrail and other transport infrastructure to support access to jobs, education, housing and to boost economic growth.
Crossrail is part of TfL's investment programme. In addition to Crossrail, the Mayor and TfL are investing to deliver the modernisation of London Underground, major investment in the capital's road network and the Mayor's cycling vision and further improvements to the Bus, London Overground and Tramlink networks.
Crossrail will add 10% capacity to London's rail network. It will serve 38 stations, connecting Maidenhead and Heathrow in the west with Shenfield and Abbey Wood in the east via central London.
The economic benefits from Crossrail are spread across the country. It is estimated that Crossrail will generate at least 75,000 business opportunities and support the equivalent of 55,000 full time jobs around the UK. Three out of five businesses currently winning work on the project are based outside London and over half (58%) are small and medium sized enterprises. In addition to Crossrail, 61,000 jobs are created around the country annually through TfL's investment programme.
Seven 1,000 tonne tunnelling machines have bored over 29 kilometres of new 6.2m diameter tunnels under London with an eighth machine due to launch next month. Construction is also advancing on the ten new Crossrail stations and on works above ground west of Paddington and east of Stratford. 10,000 people are currently working on Crossrail, including over 280 apprentices, with the project at peak construction.
The Mayor of London, Boris Johnson said: "There was a time when some said that building a huge tunnel deep below the streets of London was a mad plan that would do nothing for our economy. But as this awe-inspiring project hits its halfway point – we can see how wrong the naysayers were. Crossrail will revolutionise east-west transit in the capital, making London an even more attractive place to visit and invest. This project is not just good for London; it's good for the whole of Britain, responsible for 55,000 jobs across the country and showing that the UK can deliver on major infrastructure projects."
Terry Morgan CBE, Crossrail Chairman said: "Everyone involved can be justifiably proud of this achievement. It demonstrates the growing capability of the UK to deliver major infrastructure projects."
Andrew Wolstenholme OBE, Crossrail Chief Executive said: "Crossrail has now reached the halfway point and is being delivered on time and on budget. We are on track to deliver a world-class railway."
Sir Peter Hendy CBE, London's Transport Commissioner said: "Crossrail is vital to the future success of London and the UK and it's great to see it reach this important milestone.  With London's population set to reach around ten million by 2030, we must continue to invest in improvements to London's transport network to create jobs and stimulate growth right across the UK, now and in the future."
During 2014, Crossrail's major civil engineering and tunnelling works will conclude and the focus will shift towards station construction, fit-out and implementing railway systems within the tunnels and stations. The train operator will then test and refine the systems before trains run from 2018.
Upcoming Crossrail milestones include:
Structural completion and start of fit out of western tunnels in early 2014
Further tunnel boring machine breakthroughs during construction of the eastern tunnels at Stepney Green cavern, then Whitechapel, Liverpool Street and Farringdon. Major tunnelling for Crossrail is due to complete by the end of 2014.
Completion of the Canary Wharf station ticket hall, and the roof of Canary Wharf Group's over station development in early 2014
Network Rail to continue major surface works on the existing rail network including platform lengthening and construction of a new station at Abbey Wood
Crossrail rolling stock and depot contract to be awarded in spring 2014
Announcement of the Crossrail train operating concession in late 2014
Joint venture partners will be sought during 2014 for major above station property developments at Paddington Triangle, Tottenham Court Road (Dean Street), Farringdon East (Lindsey Street), Liverpool Street East, Woolwich and the Limmo Peninsula
Delivery and testing of trains is scheduled to start in 2017 ready for the opening of the new Crossrail tunnels to passengers in late 2018.