Estonian rail freight carrier's cargo volume reached 1.06 million tons in August
Estonian state-owned rail freight carrier EVR Cargo's freight volume reached 1.06 million tons in August, decreasing by 5.7 per cent year-on-year…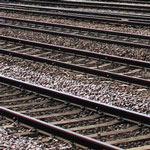 Estonian state-owned rail freight carrier EVR Cargo's freight volume reached 1.06 million tons in August, decreasing by 5.7 per cent year-on-year. The overall freight volume during the first eight months of the year remains 4.6 per cent short of last year's same period, amounting to 10.14 million tons in total.
EVR Cargo's chairman of the board Ahto Altjõe said that while oil products transport volumes continued to decline, there was an increase in the transport volume of fertilisers and containers.
Container volumes hauled by EVR Cargo were up 28 per cent year-on-year in August, reaching 5 897 TEUs in total. EVR Cargo has hauled 50 593 TEUs during the first half of the year, an increase of 32 per cent compared to last year.
The volume of mineral liquid fuels decreased by 25 per cent to 322 thousand tons in August, the volume of fertilisers increased by 22 per cent to 319 thousand tons and the volume of oil shale transport decreased by 1 per cent to 167 thousand tons year-on-year. The freight volume of chemical goods decreased by 13 percent to 76 thousand tons.
In August Russia remained as the main trade partner for EVR Cargo in railway freight with 535 thousand tons. Latvia's share decreased to 71 thousand tons and Kazakhstan increased their share by 55 per cent to 136 thousand tons.
The transit volume of mineral liquid fuels during the first eight months of the year has decreased by 13 per cent to 4.19 million tons. The freight volume of fertilizers has increased by 16 per cent to 2.19 million tons and the volume of chemical goods has increased by 3 per cent to 0.72 million tons. Oil shale transport has dropped by 10 per cent to 1.59 million tons.
The share of transit freight increased during eight months by one per cent to 6.86 million tons, forming 68 per cent of the total freight volume
AS EVR Cargo was separated from Estonian Railways in 2012, the company serves its customers in Estonia on a 1229-kilometre long railway track as well as over the entire 1520-millimeter gauge railway network, stretching from Finland to the Black Sea and from the Baltic States to the coast of the Sea of Japan, covering all CIS member states. Rail cars are hauled to and from Russia and surrounding regions in block trains or shuttles, requiring less formalities and thus ensuring faster delivery times. The company also has its own fleet of more than 3300 wagons and 80 locomotives and offers rolling stock repair and maintenance services to its customers. The Estonian logistics hub has several competitive advantages: fully renovated railway infrastructure with more than 25 million tons of annual free capacity, modern port and terminal infrastructure, transparent costs and a business-friendly tax and economic environment.