Rail Minister Claire Perry takes tour in Crossrail tunnel
Minister sees the ongoing work to link Canning Town and Victoria Dock as part of Europe's biggest infrastructure project…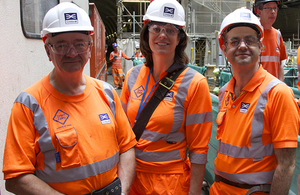 Claire Perry visits TBM Crossrail
Rail Minister Claire Perry visited one the Crossrail project's 1,000-tonne tunnel boring machines in east London today (2 October 2014) to see how the work was progressing on the Canning Town to Victoria Dock tunnel.
The machine is named Ellie, in honor of Paralympic champion Ellie Simmonds OBE. It is facing one of Crossrail's most complex tunneling drives which runs close to the Docklands Light Railway, the London Underground's Jubilee Line and the Thames and Lea rivers.
Once Ellie's work is completed over the coming months it will pave the way for the first trains to start running through the central section from 2018, when they will carry an estimated 200 million passengers a year.
Rail Minister Claire Perry:
"It was such an incredible privilege to see for myself how the work is progressing. Investing in our national infrastructure is an important part of our long-term economic plan and Crossrail is at the forefront of that plan."
"This is project is already delivering real benefits for the economy even before the first trains are operational. It is helping to create jobs, new apprenticeships and business opportunities across the country."
The minister saw for herself how Ellie is more than just a giant digger. She is one of 8 underground factories that digs, removes the earth and builds the tunnel's concrete lining at an average of 100 metres a week.
Crossrail is the biggest infrastructure project in Europe and is sponsored by the Department for Transport and Transport for London. Once the project is fully operational it will link Reading and Heathrow in the west to Shenfield and Abbey Wood in the east.
It will transform the national transport network and is already becoming the catalyst for the economic regeneration along the route and around its network of 40 stations. It will also increase London's rail capacity by 10% and reduce journey times.
The programme will bring over 1.5 million people to within 45 minutes commuting distance of London's main business districts including Heathrow, the West End, the City and Canary Wharf.
Over the course of the project, Crossrail is expected to create enough work to support 55,000 full time jobs across the country. Businesses of every shape and size are securing contracts to supply Crossrail with a range of goods and services with over 62% of these being outside London.