Exova renews partnership with Hitachi Rail Europe
Exova Warringtonfire, the specialist fire and security testing and certification provider, has renewed a partnership with Hitachi Rail Europe to provide fire testing as part of the UK Government's £5.7billion Intercity Express Programme…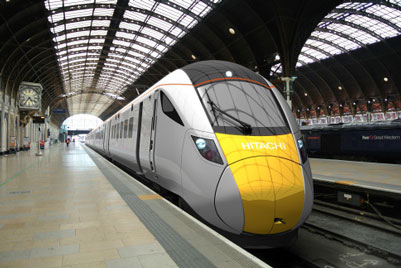 Image: Hitachi Rail Europe
Exova Warringtonfire, the specialist fire and security testing and certification provider, has renewed a partnership with Hitachi Rail Europe to provide fire testing as part of the UK Government's £5.7billion Intercity Express Programme (IEP).
Exova will provide fire testing of structural materials including coated steel and coated GRP, and interior upholstery and flooring materials. In addition to fire resistance tests for doors and floors, the comprehensive range of reaction to fire tests being conducted also includes spread of flame, heat release, smoke density and smoke and toxicity.
The IEP will see the introduction of 122 next generation Class 800/801 trains as part of a programme to upgrade Great Western Main Line and East Coast Main Line rolling stock.
Tetsuro Okamoto, Hitachi mechanical engineer for the Intercity Express Programme, commented: "Safety is our primary consideration when designing new rolling stock and fire testing is a critical element in our design programme.  Our previous experience working with Exova Warringtonfire on the Class 395 Javelin™ trains project for the Channel Tunnel Rail Link was impressive and we are confident that they are the right partner to deliver the exacting fire testing services for this prestigious project."
Rob Veitch, director of Exova Warringtonfire, said: "Hitachi Rail Europe demands the highest standards from its suppliers and the scale of this project required that we work to very specific requirements and deadlines. We have enjoyed a successful relationship with Hitachi over a number of years and are proud to have been chosen to provide support on another landmark project."
Testing for the IEP project is being conducted at Exova Warringtonfire's facility in Warrington.