Companies invited to join new 'Innovation Alliance' at Rail Investment South East Europe
A new 'innovation alliance' was tabled at Global Railway Review's latest Rail Investment South East Europe conference. The alliance is aimed at bringing together companies wishing to drive forward innovation in all areas of rail across South East Europe…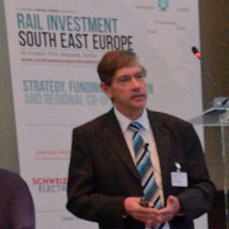 Hosted by Serbian Railways with the support of the UIC, Global Railway Review held its annual Rail Investment South East Europe conference on 28 October at the Belgrade Hyatt Regency Hotel.
The conference brought together the region's railways to discuss innovation, funding and regional co-operation.
Addressing a delegation of more than 150 participants, Mr Zoran Andelkovic, Chairman of the Directors Board for Serbian Railways said "It was time to be courageous, not conservative. Time to take action."
His words were echoed by the keynote address from Jean-Pierre Loubinoux, Director General of the UIC stating that we needed to be "speculative rather than reflective" and "responsible to the customers' needs".
Innovation Alliance
Companies from across the region including HŽ Cargo and Bosnia and Herzegovina Federal Railways, CER, EBRD, European Commission, HŽ Infrastruktura, ÖBB-Infrastruktur, Slovenian Railways, and more than 60 other leading companies were invited to join a new 'Innovation Alliance'. 
Tabled by Dennis Schut, Head of Research and Innovation at the UIC and Peter Verlic, Director of the Institute of Traffic & Transport, Ljubljana, the alliance is aimed at bringing together those wishing to drive forward innovation in all areas of rail across South East Europe.
With 'rail productivity taking over the world economy' the 2014 conference was at the forefront of discussions on how  'it takes a longer term political vision, a solid and coordinated rail development policy and above all a strong degree of willingness to ensure that we are collectively building that Future European Railway System, a legacy for the generations to come.'
For more information on the Innovation Alliance contact Dennis Schut [email protected]  or to register your interest for the 2015 conference visit www.southeastrailconference.com