Official opening of the Liefkenshoek rail link
At 18.05 on 9th December 2014, the new Liefkenshoek rail link was officially opened in the presence of several Ministers, CEOs of the partners and many invited guests…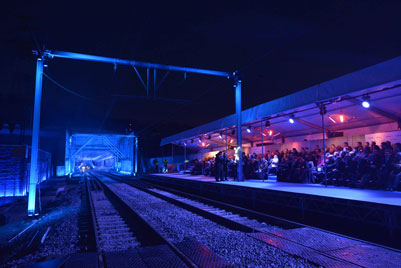 At 18.05 on 9th December 2014, the new Liefkenshoek rail link was officially opened
At 18.05 on 9th December 2014, the new Liefkenshoek rail link was officially opened in the presence of several Ministers, CEOs of the partners and many invited guests. From 14 December 2014, the Liefkenshoek rail link will enable faster, direct freight traffic between the left and right banks of the Port of Antwerp.
Opening ceremony conducted by the project partners
At the entrance to the new Beveren rail tunnel and after a visual spectacle, Infrabel and the Port of Antwerp officially inaugurated the Liefkenshoek rail link.
This took place in the presence of Federal Minister for Mobility Jacqueline Galant, Flemish Minister-President Geert Bourgeois, Flemish Minister for Mobility and Public Works Ben Weyts, several politicians and mayors, invited guests, staff of the partners and dozens of national and international journalists.
The CEOs and representatives of the various 'Liefkenshoek' partners were also present (Luc Lallemand from Infrabel, Eddy Bruyninckx from the Antwerp Port Authority, Patrick Verswijvel from LOCORAIL NV & THV LOCOBOUW, Jo Cornu from SNCB, and Dirk Demuynck from TUC RAIL).
A logistical gateway to the Port of Antwerp and to Europe
The Liefkenshoek rail link will improve the flow of traffic between the Waaslandhaven on the left bank (including the rail installations at the Deurganck Dock) and the Antwerp North marshalling yard on the right bank. From 'entry into service' on 14 December, freight operators will be able to run straight between the two banks of the harbour and into the Port of Antwerp, faster and more efficiently.
Through the Liefkenshoek rail link, Infrabel aims to gradually expand rail capacity in and around the Port of Antwerp, helping to support the growth of the port and the Belgian economy. The new rail link forms a logistical gateway and a major boost for all freight forwarders from Europe and the rest of the world.
The Liefkenshoek rail link is the second Public-Private Partnership (PPP) for the Belgian railways, representing a total investment of €873 million. It includes works funded by private investment in the PPP (via the project company LOCORAIL NV) and by public investment (Infrabel).