End of the line for Borders rail installation
The installation of almost 30 miles of rail on the new Borders Railway was officially completed when Keith Brown, Cabinet Secretary for Infrastructure, joined the project team to clip the final length of rail into place…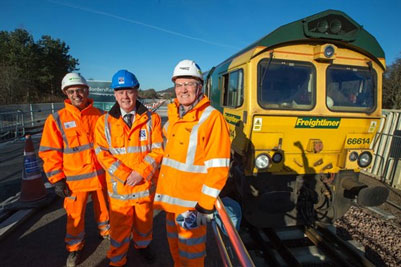 The installation of almost 30 miles of rail on the new Borders Railway was officially completed today (Thursday, February 12) when Keith Brown, Cabinet Secretary for Infrastructure, joined the project team to clip the final length of rail into place.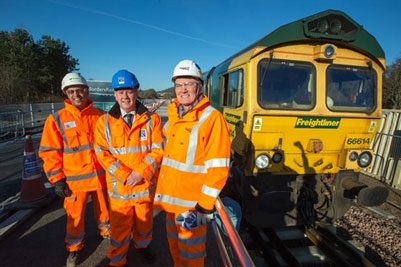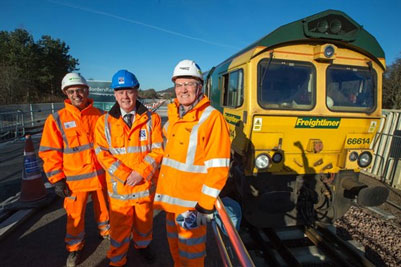 Arriving by rail at Tweedbank station, on the first train to reach the end of the new line, Mr Brown clipped the final rail into place alongside Hugh Wark, Network Rail's project director for the Borders Railway.
Since track-laying commenced in October last year, over 1000 rails have been laid across more than 90,000 sleepers using a specialist rail installation machine.
The longest new domestic railway built in Britain in over a century, the Scottish Government-funded Borders Railway will re-establish passenger services for the first time in over 40 years from Edinburgh through Midlothian to Tweedbank.
Mr Brown said: "It is a huge honour to put the final piece of track in place and travel on the first train to run into the Borders in almost half a century. The reopening of this line offers a once in a generation opportunity to deliver a major economic and social boost for the communities it will serve.
"This is the longest domestic railway to be built in Britain in over 100 years and is a fantastic engineering achievement for Scotland and for the rail industry. But more importantly, the Borders Railway is the realisation of a long-held aspiration that will see community links restored, local economies boosted and opportunities improved for many.
"I have no doubt that Borders Railway will be hugely successful, both in enhancing Scotland's infrastructure and transforming business opportunities along the line."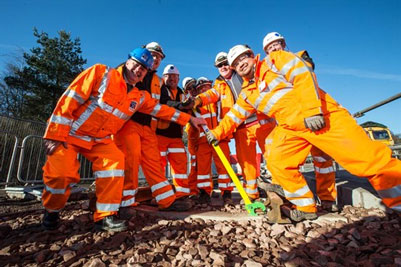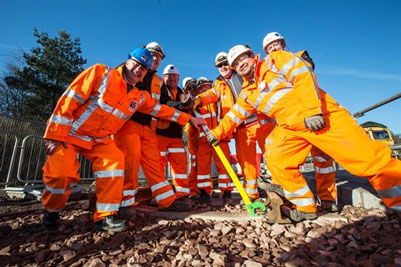 Hugh Wark added: "The completion of rail installation is a major milestone for the project and keeps the line on-track to open for passengers in September. While we still have a significant amount of infrastructure to complete along the route – from installing signalling to completing the stations – we're confident that this much-anticipated addition to Scotland's railway will be delivered on schedule."
With the rails now in place, the project team will focus on completing ballast spreading, tamping and welding on the track, installing signalling and communications equipment and completing the construction and fit-out of seven new stations – at Shawfair, Eskbank, Newtongrange, Gorebridge, Stow, Galashiels and Tweedbank.
With construction due to complete in the summer and the line to enter service in September 2015, the new railway will offer a fast and efficient alternative to the congested local road network allowing passengers to travel from Tweedbank to Edinburgh in around an hour at peak times.
 
The railway is expected to deliver major economic and social development opportunities – connecting people to jobs, housing, leisure opportunities and other facilities. The project is a key part of the Scottish Government's wider programme of investment in transport infrastructure, working towards the sustainable economic growth of Scotland.
Related organisations
Related people