Parker provides the climate for a superior, more comfortable passenger experience
Parker Hannifin is the global leader in motion and control technologies providing precision engineered solutions for a wide variety of rail applications in all segments…

Parker Hannifin is the global leader in motion and control technologies providing precision engineered solutions for a wide variety of rail applications in all segments.  Offering superior engineering knowledge of rail HVAC systems and service to OEMs, the wider supplier network and also to refurbishment providers, Parker consistently exceeds the expectation of its customers worldwide.  Founded on a clear understanding of rail industry needs, Parker has a well-earned reputation for quality and reliability. Its rail products are fully validated to meet industry standards and partnering with many of the world's leading rail organisations Parker supplies both individual components or fully integrated control systems. 
To the rail industry, the environment where products or solutions are installed heavily influences the specification of components that are integrated into applications.  Installation environments differ significantly from project to project. For example, according to whether the components are intended for internal or external use, different challenges exist.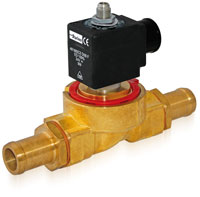 When it comes to mass-transit, customer satisfaction is everything.  Whether driven by on time performance or on board comfort, train operators have to keep customers satisfied to ensure continued use or to avoid negative publicity.  In terms of passenger comfort, the successful control of on board climatic conditions can be the difference between having happy passengers or not. Therefore it is imperative that OEMs install HVAC systems that operate reliably time and time again to ensure that everyone on board can sit back, relax and enjoy the journey. 
In the complex field of HVAC for rail, Parker has in depth 'proven in operation' experience of offering products that deliver the much-needed reliability mentioned above.  While passengers usually simply focus on whether they are too hot or too cold, the overall installation is very demanding from a specification point of view.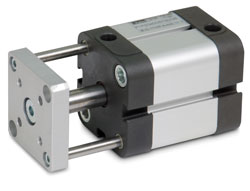 Paramount in today's modern rail environment is the movement of passengers in both comfort and at high speed. However, 'high speed' creates a problem in terms of passenger comfort if not mitigated against.  As trains pass by each other at high speed or when they enter tunnels a pressure wave is created and this has to be eliminated from entering into the passenger compartment as it could cause discomfort to all inside.  On board HVAC systems draw fresh air from outside, usually via vents which can be opened or closed as required, thus preventing the pressure wave entering the vehicle, this operation can be controlled automatically by a pneumatic actuator. One area that Parker excels in is the supply of compact standard or bespoke pneumatic actuators and control valves for reliable control of intake vents.
It's important to note that performance can be affected by a host of different factors.  In many projects HVAC systems are roof mounted on trains, this environment can prove to be extreme in a lot of cases.  Factors such as wind chill, extreme temperatures and temperature differentiation come into play, which is why Parker engineers have created both qualified actuators and their associated pneumatic control valves that can cope.  In vent control applications, if the actuator and control valves are not rated for the ambient environment, there is a real possibility that the opening and closing of vents simply won't happen. 

Installation space within HVAC control systems for vent control actuators can be limited and often require features that are not standard. HVAC actuators from Parker offer very compact dimensions that can be integrated into the limited space available. Parker also offers enough flexibility to have non-standard porting options depending on how the actuator will be installed.  Proven in applications and flexible in approach, Parker compact actuators represent the perfect choice in vent control.
Another critical area in terms of HVAC performance revolves around valves that are specified for controlling different functions within the system.  Again, this is where Parker's engineering expertise shines through.  As a leading manufacturer of fluid control products, Parker's current valve technologies have been refined over many years working with a wide variety of customers across different sectors.  This valuable experience has enabled Parker to develop valve solutions ideal for deployment within rail HVAC, like its range of condensation and fluid control valves that set the standard when it comes to operating performance.  Delivering full control of fluids, these valves deliver high flow rates for cooling or heating of water as well as options with zero pressure differentials. Sealing technology utilised within fluid control valves has also been optimised to enable leak free performance, usually manufactured from stainless steel or brass, the valves resist threats of corrosion, which can impair performance and can cause breakdowns. 
"Parker is a long standing supplier of pneumatic solutions for rail HVAC applications and has a deep understanding of both environmental challenges and engineering requirements of this demanding industry" stated Dave Walker, Market Development Manager Parker Hannifin.  "Whether it's components for HVAC systems, integrated modules for Pantographs or control units for door opening/closing, Parker has an extensive, compliant product portfolio that the global rail industry can rely on".