Pantograph control module from Parker delivers cost savings, reliable performance and reduces installation times
Parker Hannifin, the global leader in motion and control technologies, has gained a reputation as an engineering company that innovates to find optimum solutions for the rail industry, across a wide range of line side and on board applications…

Parker Hannifin, the global leader in motion and control technologies, has gained a reputation as an engineering company that innovates to find optimum solutions for the rail industry, across a wide range of line side and on board applications. Adding to this position, Parker has recently completed the design and build of an all-new pneumatic main control module for pantograph systems. Originally developed as a rolling stock solution, this technology is now available for all rail customers in need of a partner with specialist knowledge in the field of pneumatic technology.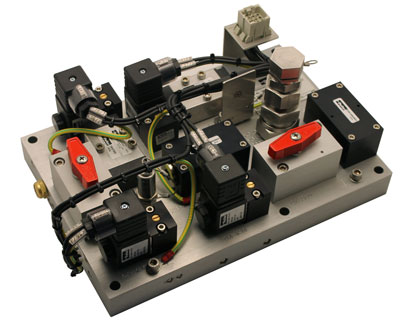 The pantograph is a familiar sight on top of rail vehicles. Designed to allow rail vehicles to travel at high speeds without losing contact with the overhead catenary lines, the pantograph arm pushes a contact shoe up against the underside of the power cable drawing the electricity required to power the train. Typically compressed air is used to control raise, hold and lower functions of the arm, meaning it is essential for any OEM designing and manufacturing pantographs to partner with a pneumatics company that delivers in depth experience and knowledge.
Parker's new main control module was engineered out of the need for a high performing system that could not only operate to a demanding specification, but also deliver tangible customers' benefits. For the first lift after a vehicle outage period, the majority of Pantograph systems require the availability of a compressed air supply. Why? Because the vehicle main compressors are usually not powered up until the pantograph has an established electrical connection, so normally an auxiliary compressor is installed to deliver this supply. However, this traditional system approach has its drawbacks, mainly cost and the amount of physical space required to install the compressor. In addition to this, most current pneumatic installations supplied are made up of numerous individual discrete components, which create unnecessary procurement complexity, higher purchasing cost, increased test and installation times, and difficulty with servicing and maintenance.
Knowing the drawbacks, Parker's Engineers sought to find a solution that would address the issues highlighted above. After thoroughly reviewing the system as it stood, they established what technically could be done to help overcome the identified challenges. The Engineers then set about designing a compact fully integrated "plug and play" control system. This solution contained all the critical pneumatic functions required to reliably operate the pantograph system within a given specification.
How did Parker solve the problem? The new main control module system is linked to a 25-litre reservoir, charged during normal operation to 9 bar via a Parker 2/2 solenoid valve contained within the module. It is from this reservoir that the pantograph system draws compressed air for its initial operation and not via a dedicated auxiliary compressor which in itself gives significant cost savings.
Energised at the end of each day to charge the reservoir and then de-energised, the integrated 2/2 valve is vital for overall system performance. In its de-energised state it retains the reservoir's air charge for up to 5 days, ensuring reliable pantograph operation after moderate outage periods. Cleverly, the provision of a separate external air supply connection allows the system to operate even after extended outages.
As a specialist in pneumatic technology, Parker supplies the rail industry a valve that offers an extremely low leak rate, so the reservoir remains charged and subsequently the pantograph's performance remains constant and works in extreme conditions, operating in temperatures as low as -25C which is especially important when rolling stock is not operational and standing is sidings.
Whilst the specification requirements are paramount, Parker's engineers primarily focus on adding value to the final overall design. This new module is essentially a stand-alone "plug and play" system, supplied fully assembled and tested, reducing costs normally associated with both the installation and testing of multiple individual components. Customers now receive a single module, complete with integrated guide holes allowing quick and easy alignment and mounting of the unit, importantly, all system components are placed with rear facing vehicle connection ports onto a single sub base module. In addition, for purchasing departments it represents a significant reduction in total acquisition costs, reducing the number of orders raised, logistics and inventory management, meaning customers no longer have to buy single components, they can order just one single part. Simple.
The benefits of a single module approach don't stop at installation and procurement. It's essential in today's modern rail environment that service and maintenance times are kept to a minimum, guaranteeing maximum vehicle operational time and profit. Having only one module that can simply be replaced as a whole unit (rather than individual parts) is tremendously beneficial in terms of service and maintenance. Due to its plug and play qualities the system can quickly be decommissioned, serviced, repaired and re-commissioned with ease, resulting in less down time.
"The common factor in how Parker provides proven solutions that address complicated engineering challenges lies in the fact that we have a depth of knowledge, understanding and long standing reputation in, and of the rail sector" stated Dave Walker, Market Development Manager at Parker. "This is another great example of how our expertise in pneumatics helps us to interpret customer requirements and go beyond simply meeting specifications, but to create solutions that are not only technically advanced but add real customer value".
For further information on Parker solutions in the rail sector please visit www.parker.com/rail or contact us at [email protected]