EIB provides funding for Swietelsky's research project
The European Investment Bank (EIB) has today signed a loan contract to provide Austrian company Swietelsky Baugesellschaft mbH funds from the "InnovFin" budget, a joint financing programme of the EIB and the European Commission to develop new systems to rehabilitate and maintain tracks on standard and high-speed railway sections more rapidly and at lower costs. The […]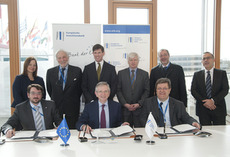 The European Investment Bank (EIB) has today signed a loan contract to provide Austrian company Swietelsky Baugesellschaft mbH funds from the "InnovFin" budget, a joint financing programme of the EIB and the European Commission to develop new systems to rehabilitate and maintain tracks on standard and high-speed railway sections more rapidly and at lower costs.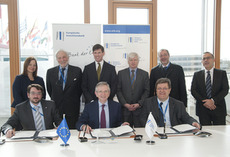 The Swietelsky research project will enhance the operability and overall efficiency of the networks resulting in reduced downtime on railways due to maintenance. The research project also encompasses the construction of two prototypes for special rail maintenance equipment. The maintenance of railway tracks is a key factor in determining maximum permissible train speeds and axle loads. Swietelsky will carry out the work in its research centre in Fischamend near Vienna.
EIB Vice-President Wilhelm Molterer commented on today's loan agreement: "The railway sector is a core component of European infrastructure policy. This creates an even greater need for reliable and safe tracks, which are vital for smooth and environmentally-friendly rail transport. Swietelsky is a company operating in this area, whose comprehensive expertise in rail track construction, rehabilitation and maintenance reaches far beyond Austria's borders. It will meet expectations as regards innovation and know-how and will also make a significant contribution to Europe's industrial and technological competitiveness".
Adolf Scheuchenpflug, Swietelsky's CFO, also noted, "With the loan from the European Investment Bank, Swietelsky will further consolidate its leading position in the development and application of innovative railway track systems".
The Swietelsky R&D project will be supported by "InnovFin – EU Finance for Innovators" and "InnovFin Large Projects", both are provide with financial backing from the European Union under Horizon 2020 Financial Instruments. InnovFin is designed to facilitate financial access for innovative businesses and "InnovFin Large Projects" is specifically designed to improve access to risk capital for research and innovation projects in the EU.