Siemens awarded €1.7 billion order to build Rhine-Ruhr Express
Siemens has been commissioned to build the new Rhine-Ruhr Express (RRX) rail transport concept at a total order volume of more than €1.7 billion. The Rhine-Ruhr Metropolitan Region has awarded Siemens to supply 82 Desiro HC electric multiple units for the Rhine-Ruhr Express and provide maintenance services for 32 years. A service period of this time […]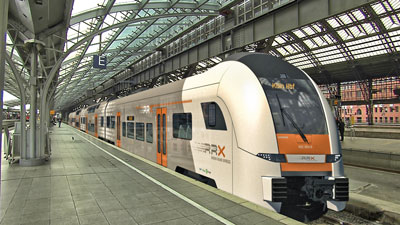 Siemens has been commissioned to build the new Rhine-Ruhr Express (RRX) rail transport concept at a total order volume of more than €1.7 billion.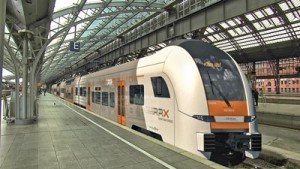 The Rhine-Ruhr Metropolitan Region has awarded Siemens to supply 82 Desiro HC electric multiple units for the Rhine-Ruhr Express and provide maintenance services for 32 years. A service period of this time scale is the first ever seen for the German rail industry. A new maintenance facility will be built at Dortmund-Eving, where up to four trains can be serviced simultaneously and around 100 new specialists will work in multiple shifts. Siemens also plans to invest 150 million Euros in its rail technology sites in the state of North Rhine-Westphalia.
The project is expected to create 100 new jobs at Siemens. Jochen Eickholt, CEO of the Siemens Mobility Division, comments on the commission: "This is a huge success for Siemens' rail business. The project will secure existing high-quality jobs in North Rhine-Westphalia and create new ones. Our state-of-the-art train is good news for millions of commuters along the Rhine and Ruhr rivers in Germany's most densely populated region,"
It is hoped the development will ease road congestion along the Rhine and Ruhr, in particular the populous route between Cologne and Dortmund which currently has an overburdened public transport network.
The first RRX trains are scheduled to enter service by late 2018 at speeds up to 160 kilometres per hour. High capacity, double-decker Desiro trains consisting of four cars, at 105 metres long with a capacity of 400 will be actioned along the route. During operation, two units will be connected to form an eight-car express with 800 seats.
Rhine-Ruhr Express route map infographic: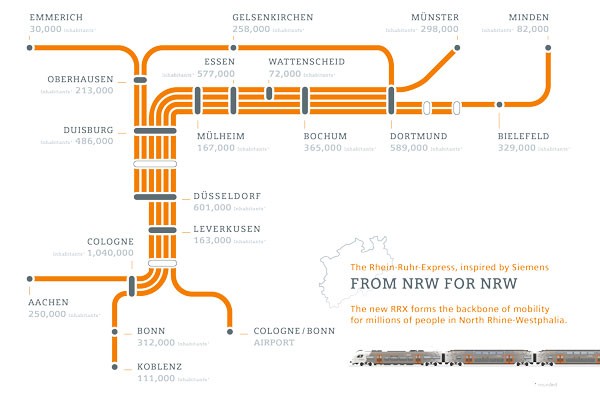 Siemens video: Train by train – Without traffic through the Rhine-Ruhr metropolis